Due to increasingly difficult economic conditions, consumers are paying more attention to the value for money of their food – with many switching from single portions to multipacks or larger packaging units to get the most out of their weekly grocery store run. Thanks to innovative technology from Syntegon, manufacturers don't have to sacrifice their sustainability goals despite the trend shift.
They're what everyone likes to grab: individually wrapped mini chocolate snacks in a multipack. They are easy to share with others and often cheaper than full-sized chocolate bars. Especially in pandemic times, when many consumers stay at home and are a little more careful with their wallets, these options are massively popular. The industry has adapted to this: Companies such as Nestlé or Ritter Sport have been offering an increasing number of their snacks in multipacks. But as practical as these snack bags may be, they're also bad for the environment. This is because until now, their packaging was made of materials that are difficult to recycle, such as polyethylene. And despite the fact that everyone loves a bargain, environmental protection is increasingly close to consumers' hearts. Syntegon offers a solution for this problem and has been helping manufacturers switch to paper multipacks for years.
On Syntegon's vertical packaging machines, various types of bags can be produced from up to 95 percent paper. These are particularly attractive for larger multipacks.


Sustainability in many forms
When it comes to multipacks, the switch to more environmentally friendly packaging materials holds particularly great potential: The barrier function, and thus product protection, is already provided by the initial packaging – the multipack can accordingly dispense with further coatings and thus be made from up to 95 percent paper.
Paper is easy to recycle and is made from renewable raw materials. However, it is more sensitive than plastic, tears or buckles more quickly and must therefore be handled with care – especially when it comes to vertical packaging into which individually packaged products are dropped in advance.
Anyone who is afraid of having to dig deep into their pockets to purchase new equipment can rest assured: Thanks to the subsequent adaptation of the sealing unit and forming shoulder, vertical form, fill and seal machines from Syntegon can be easily converted to meet the requirements of paper. This allows manufacturers to produce all common bag types such as pillow, gusseted, block-bottom, and doy stand-up bags from paper – without wrinkles, scores, or tears. In our test centers, we have already tested over 100 different materials for machine runnability and barrier properties. Whether it's heat-sealable barrier papers or mono-material paper, 500 g or 2.500 g packages – together, we will find the right solution for your application.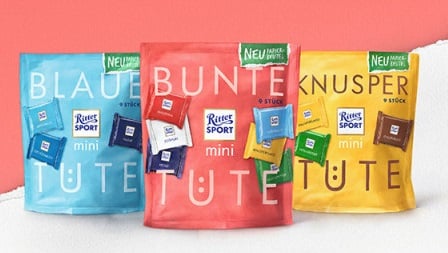 Numerous international companies such as Ritter Sport already rely on paper-based stand-up pouches to achieve their sustainability goals.

Many of our customers, such as Mars Wrigley and Ritter Sport, have already increased their share of recyclable packaging significantly by switching to paper. This is a big step towards the two companies' ambitious sustainability goals: Ritter Sport, for example, plans to use packaging material from renewable resources for its entire product range from 2025.
Would you like to learn more about Syntegon's sustainable paper packaging solutions? Then contact us directly. We look forward to hearing from you!
Also other industries benefit from paper packaging: Read the following success stories from the pasta industry:
https://www.syntegon.com/de/news/soul-food-verpackt-in-papier/
https://www.syntegon.com/de/news/wolf-nudeln-setzt-auf-papier-statt-plastik