Syntegon has had the immense pleasure of working with the snack powerhouse – Mondelēz – in Toronto, since 2017 and has eagerly aided their team in their "Snacking Made Right" pursuit.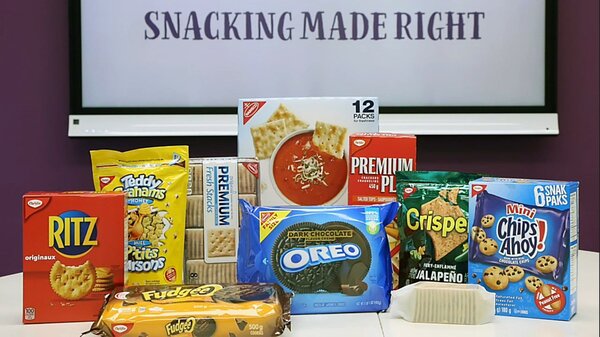 Syntegon worked closely with the Mondelēz team to adapt the design of the Sigpack FGMT slug forming machine that fit their cracker-packaging needs most precisely. This included amping up the changeover speed to allow for less required maintenance time. The slugs are then sent to the Sigpack HCS Horizontal Flow Wrapper, which can wrap up to 2100 slugs per minute. After going through a metal detector and camera detection system, the wrapped cracker packs arrive at the Sigpack TTM Topload Cartoner – where they are robotically picked and placed into cartons at a rate of 100 to 750 packs per minute, depending on the packaging type.

With Syntegon's knowledge of the total packaging process, they created a Seamless Integration system for Mondelēz – allowing for a variety of product pack styles and sizes, such as the Premium Saltines 12 pack and the Premium Saltines Fresh Stacks. This smooth adaptability is a key highlight of the system.

Along with the flexibility options, the Mondelēz team also touts the utmost ease of changeover of the system – which is extra beneficial during cracker breakage – and the support that Syntegon provides before, during, and after the machines have been put into operation. The Mondelēz team testifies to Syntegon's great communication and expert knowledge throughout the entire process and looks forward to the next collaborative project.