Pharmaceutical tablet production must run like clockwork. Only the smooth interaction of equipment and active ingredients ensures high-quality products. With a new feeding system, Syntegon now offers fully automated support to accurately determine various production parameters during tablet pressing.
Diameter, thickness, and hardness are just some of the parameters that pharmaceutical manufacturers must consider in tablet production. The more accurately companies define these values, the more efficient and precise the production – and the safer the final products. Due to the wealth of possible parameters, however, prioritizing is key: Syntegon focuses on the powder feeder to provide manufacturers with the best possible support in tablet pressing. The new, automatically adjustable feeder with APD (Automated Process Development) software offers pharmaceutical manufacturers a complete package. It allows to determine the ideal process parameters for each product and easily transfer them to production scale.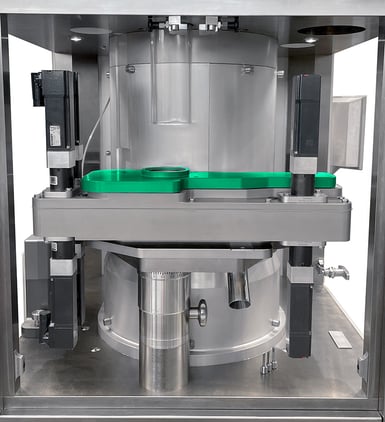 Understanding complex dependencies
Syntegon has specifically tailored the APD tool to its TPR 200 tablet press. During product tests, the feeder's APD software analyzes the relations between process parameters, material properties, and critical quality characteristics of the final product. The fully automated evaluation not only helps pharmaceutical manufacturers save precious time. "They can also simulate the production situation accurately and determine reliable parameters thanks to a clearly defined data basis," says Matthias Moessinger, Senior Market Expert Pharma Solid at Syntegon. Scale-up to production is easier and can be realized without manual analyses.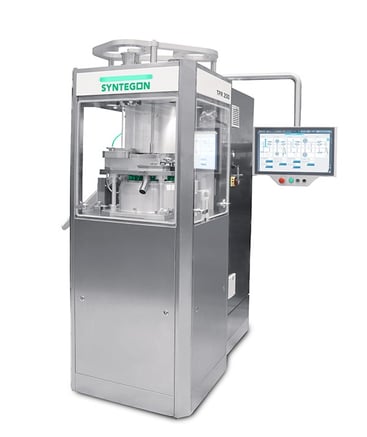 Easy process optimization
Besides testing products in the development phase, the powder feeder with the APD tool allows to optimize existing processes. Syntegon is paving the way in its OSD Customer Center in Waiblingen, Germany. Together with customers, the experts test both active ingredients and placebo formulations with the automated feeding system. "Our experts know the industry's challenges and can support pharmaceutical manufacturers in determining the optimum process parameters based on decades of experience," says Moessinger. After the successful use of the APD tool in capsule filling processes, its use for tableting is another important milestone. Further innovations for structured and efficient process optimizations in other application areas are bound to follow.
Would you like to learn more about the automated analysis and optimization of tableting processes? Our experts are looking forward to your request!