Due to the high degree of flexibility that is becoming increasingly important in the confectionery industry, Syntegon recognized the potential of XTS technology from Beckhoff early on. The Syntegon team in Beringen has been working with the Beckhoff experts since 2011 and was one of the first XTS customers.
No other manufacturer in the packaging industry has implemented as many XTS applications as Syntegon. The intelligent transport system from Beckhoff completes the packaging system with full flexibility to solve any problem in the most effective and innovative way. The supply systems for primary and secondary packaging applications are unique on the market and in high demand among our customers. Watch the full video and learn about the partnership as well as four applications in the packaging machines.
To date, more than 100 linear-motor-based XTS transport modules have been built into packaging systems from Syntegon; no other manufacturer in the packaging sector has more experience in the application of this innovative technology. We had an enlightening conversation about XTS with Kurt Gleichauf, Director Technical Development at Syntegon in Beringen.
Syntegon has been successfully using XTS modules on the market for several years now. Would it be fair to say that XTS has established itself as a standard?
Kurt Gleichauf: No other manufacturer in the packaging industry has implemented as many XTS applications as we have. As of late 2020, the number had reached roughly 100 packaging systems with XTS, based on seven standard applications with XTS technology. The XTS modules provided by Beckhoff Automation give us the flexibility to optimally address every new task with innovative ideas. Our intelligent transport solutions are the only ones of their kind on the market, and are in high demand with our customers. They are definitely among the bestsellers in our portfolio.
"As a technology and innovation leader in our industry,
we recognized the benefits of the intelligent transport system from
Beckhoff early on.
Today we have already installed roughly 100 packaging system with XTS technology,
and by the end of the year we will have installed 200 of these systems
as a result of the strong demand."
Kurt Gleichauf
Director Technical Development, Syntegon
What convinced Syntegon to start using XTS back in 2013?
Kurt Gleichauf: For us, the key argument was the technology's potential to help us develop new solutions with added value for our customers. Syntegon provides fully automated packaging systems for confectionery manufacturers around the globe. The industry is facing a number of trends, some of which change rapidly, forcing manufacturers to react. These manufacturers especially benefit from the advantages of linear motor technology:
Flexibility: For various product sizes, pack styles, tolerances and consistencies
Changeover times: Changes can be made at the push of a button
Performance: High speed, optimum product flow
Gentle handling: Especially important for delicate products or paper-packed products in secondary packaging
Compact design: Maximum output per square meter of production space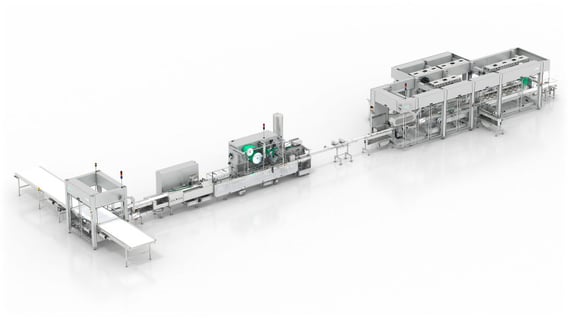 Our customer Leclerc produces a broad range of bars, which have different lengths and are packed in multiple configurations. Here XTS can save operators considerable time normally spent with changeovers.
Our customer Nairns produces "glutenfree" oatcakes, which are extremely delicate. Thanks to the reduced mechanical strain, the products are packaged without breaking or crumbling.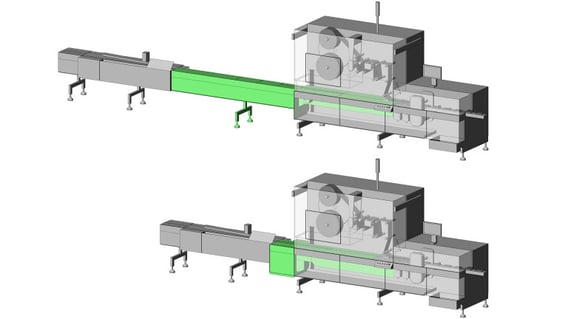 Thanks to the 1.5-meter-long XTS transport system, our customer Tunnock's was able to shorten its packaging line by four meters.
How does XTS differ from traditional technologies?
Kurt Gleichauf: Particularly when it comes to primary and secondary packaging, the potential of XTS can really be tapped. In comparison to conventional transport chains, the linear transport system allows each individual XTS mover, and therefore every product, to be flexibly controlled. The system accelerates individual products in order to optimize the overall product flow. Especially in the high performance range, where consistently high speeds can be reached. For example in the primary packaging for the bar industry up to 1,500 products per minute and in a biscuit system up to 2,400 products per minute. Whereas, in conventional chain feeders, the movers have to be separately and manually exchanged for each new format, in the XTS system, these changes can be made at the touch of a button via the corresponding software function. This translates into enormous time savings, which positively impacts overall equipment effectiveness.
In addition, linear motor technology exposes products to less mechanical stress. Thanks to the individually controllable movers, even the most delicate products can be gently transported through the production process. A further advantage of the linear transport system: its extremely compact design. Especially at established plants, the available space for new systems is often limited.
"Having Syntegon as a partner is very important to us.
With many XTS systems installed in industrial production environments,
we
are constantly learning new things.
The feedback we receive from globally operating manufacturers is very valuable.
Accordingly, we are constantly advancing the product
in line with Syntegon's requirements."
Uwe Prüssmeier
Senior Product Manager, Beckhoff