Keep calm and drink milk! Yes, you can be calm and enjoy your milk because we are here to protect it for you.
Syntegon offers the best packaging solution for milk powder ensuring the highest quality product delivered to the consumer. Milk powder is an important part of our diet and we help you protect its quality and freshness.
With more than 50 successful installations worldwide, Syntegon is one of the preferred brands of packaging machines for milk powder. Its vertical form, fill and seal machine SVE 2520 AR in combination with the auger FVS 3051 makes a high-speed, flexible and hygienic solution for your milk powder.
SVE 2520 AR is a high-speed continuous motion machine, which is easy to operate and has an open design for easy access, operation and maintenance. It is also equipped with nitrogen gas flushing option to enhance shelf life of the product by ensuring low residual oxygen level. The FVS 3051 auger, has a stainless steel split hopper for ease of cleaning and format change over. This machine and auger combination can be used with common format part for dairy whitener, skimmed milk powder, whole milk powder and baby food powder. It can also be easily integrated with downstream equipment like checkweigher, metal detector and secondary packaging machines.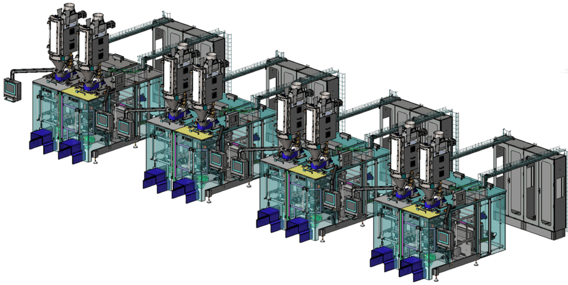 So, if you are thinking of a high quality, affordable and flexible solution for milk powder packaging then contact us at Syntegon. We ensure you a prompt sales and service support for all your packaging needs. Happy packaging!