Great service for a sustainable economic development
Sustainability means partnerships, which are the basis for Syntegon's success. The company supports its customers from the very first minute and lays the foundation for long-term achievements on both sides. Service is an important pillar of this cooperation. What is the essence of good service? And what does it mean for everyday business? These questions can best be discussed while enjoying coffee and cake in Schwäbisch Hall, Germany. Johanna Marquette, service manager at Syntegon, and Joachim Burkardt, managing director of Café Ableitner, are two service experts who are happy to share their insights.
Service connects: mechanical engineering meets catering industry

See the video to experience what mechanical engineering and gastronomy think about the role of good service.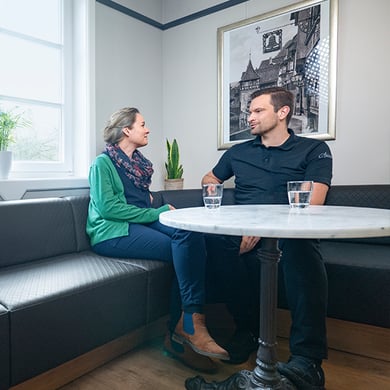 Understanding customer needs
Johanna Marquette | Joachim, you are a general manager in the catering industry. What does good service mean to you?
Joachim Burkardt | For me, outstanding service is not noticeable at all and makes customers feel at home.

Johanna | For us, it is crucial to understand the requirements of our customers and to know what they need. How do you do that?

Joachim | We have many regular customers and know exactly what they want. For example, customer A has always had a pot of coffee with her Black Forest cake on Sundays for many years. And customer B always wants a teapot warmer along with the cake. We cater to both wishes without them having to tell us.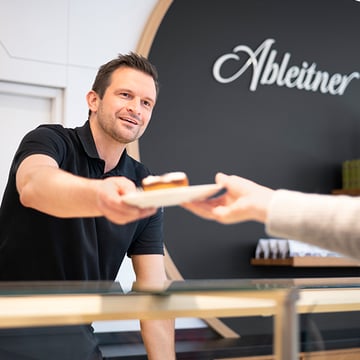 Joachim Burkardt

Managing Director of Café Ableitner in Schwäbisch Hall
"For me, outstanding service is not noticeable at all and makes customers feel at home."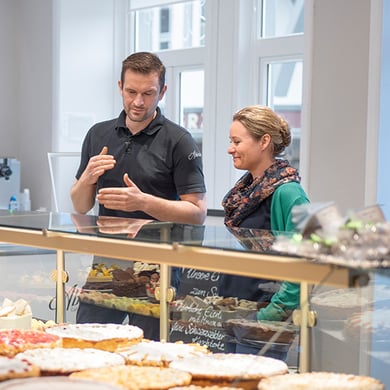 Service in transition
Johanna | I can draw parallels to mechanical engineering. A large company can quickly seem impersonal. At Syntegon, however, we focus on personal interaction. Knowing what customers need, accompanying them in the process, and proactively supporting them – that's the be-all and end-all of good service.
Joachim | Exactly. We've had regular customers for over 60 years in some cases. So, we know very well what they want, and how they want it.

Johanna | Customer needs provide orientation, but they also change with time. We therefore have to constantly adapt our portfolio. In the past, our service business revolved mainly around individual solutions, spare parts, and the deployment of our technicians. Today, we offer our customers comprehensive service packages that make daily production and maintenance easier. How has service changed for you?

Joachim | For some years now, customers have increasingly addressed topics like allergies or intolerances. We must respond and adapt our cakes accordingly to offer the best possible selection. Our customers expect a changing range of products that is never boring, while including the classics. How about a piece of cake?
Johanna | Yes, gladly!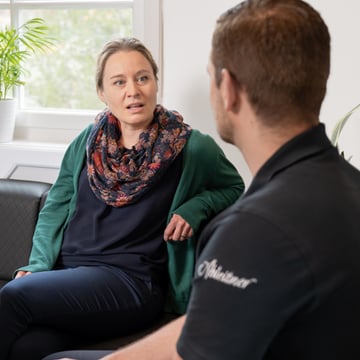 Johanna Marquette

Vice President of Customer Service at Syntegon for the regions Europe, Middle East, and Africa
"Knowing what customers need, accompanying them in the process, and proactively supporting them – that's the be-all and endall of good service."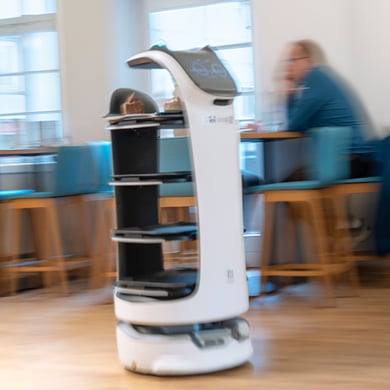 Digitalization for improved customer experience
Johanna | Yes, please! So that's how it works at Café Ableitner: cake is served by a service robot. I see that digitalization is in full swing at your place.

Joachim | Exactly. It's a robot that brings food or coffee to the table. This is how we want to support our staff. They no longer have to do so much clearing up, but simply place the dishes on the robot, which returns them to the kitchen autonomously. This gives us more time for our customers.

Johanna | Digitalization also plays a big role for us, of course. On the one hand, the machines are becoming increasingly digital and their operation more data-based. We can use this data for digital services such as equipment monitoring and for consulting. On the other hand, we no longer have to be physically present at the customers' sites but can advise them virtually and support them in troubleshooting. This saves time and our experts remain available around the world and around the clock.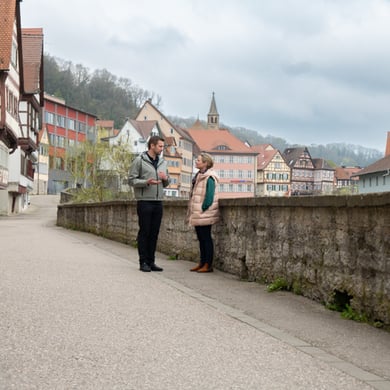 Comprehensive service package for long-term success
Joachim | To top it all off, the lovely view of Schwäbisch Hall adds to our services. What does Syntegon have up its sleeve?

Johanna | We also attach great importance to a consistent overall experience. We offer our services as soon as we have installed our machines at our customers' sites. And then it's 30 years of support for us – both in ongoing operation and in maintenance. It goes without saying that we always strive to do a good job. After all, good service ensures that customers stay with us for a long time.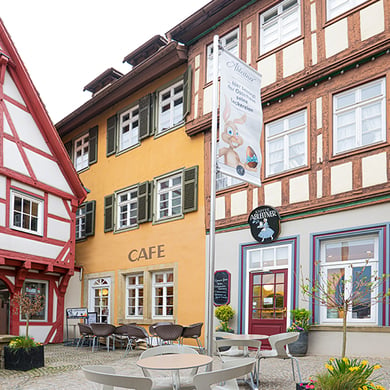 Café Ableitner
Located in the centre of Schwäbisch Hall, Germany, the popular coffee house not only has a long tradition it also offers a unique experience and excellent service. Café Ableitner combines tradition and contemporary gastronomy, including technological innovations such as the robot, a kind of shelf on wheels.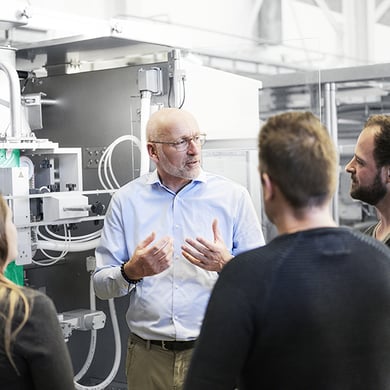 Service at Syntegon
Service means comprehensive support for Syntegon: with its service portfolio, the company offers a global network of experts who are available to customers during the entire life cycle of their machines.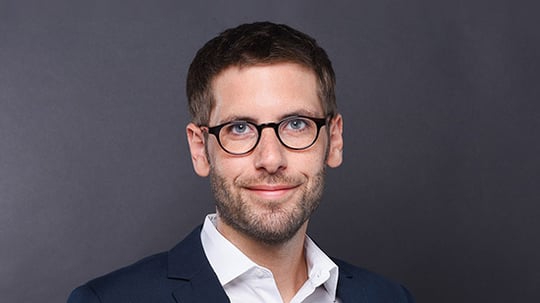 Interested in Syntegon?

Spokesperson Corporate Communications
Syntegon Technology
Patrick Löffel

Phone: +49 7151 14 2732
Contact us