The dynamics of the confectionery industry are nowhere more apparent than in the jelly sector. There seems to be no limit to colors and shapes. Jellies enriched with vitamins and nutritional supplements for children and adults are among the ongoing trends.
Producers who want to prevail over competition need a partner who supports them with creative ideas, integrated system solutions, and innovative technologies from the very beginning. For over 90 years, Makat Candy Technology, a Syntegon company, has combined these competencies under one roof – now including innovative kitchen technologies.
The jelly kitchen: innovative equipment for sustainable production
The process requirements for the production of high-quality jellies are high. The machines must work precisely and meet the highest hygiene standards. Makat provides the right portfolio for these applications. Volumetric dosing and mixing stations are best suited for continuous dosing and mixing of valuable ingredients and for measuring out very small quantities. In combination with membrane pumps that feature flow control, they achieve a dosing accuracy of up to one percent. Sustainability has also been taken into account: The patented Rapidsolver enables significant energy savings of up to 50 percent when dissolving jelly mass. Its hygienic design and the specifically adapted CIP (cleaning in place) system provides the highest hygienic standards.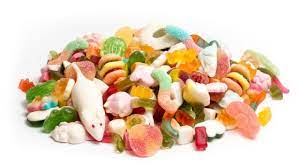 There seems to be no limit to colors and shapes in the jelly sector. Manufacturers are constantly developing new, colorful creations, which require efficient and flexible process technology.
Once the suspension has been mixed, dissolved and preconditioned for further processing, it can be molded by starch depositing or starchless depositing, depending on customer requirements. The Makat HLM (high-performance mogul) is well established on the market for starch depositing. Thanks to its reproducible and accurate result, it ensures consistently high product quality – no matter whether you want to deposit 500 or 6,000 kilograms of jellies per hour. The stamps used to form the negative molds in the starch can be flexibly and easily exchanged.
From vitamin bears to collagen drops
Starchless depositing is particularly suitable for the production of jellies that are enriched with minerals or vitamins. This enables jelly producers to manufacture a final product that complies with the guidelines for dietary supplements. In contrast to the traditional starch depositing process, the jelly mass is deposited into special reusable molds. After depositing, the product molds with the jelly mass pass through an integrated cooling tunnel and are brought to the required demolding temperature.
Makat supports confectionery manufacturers in their decision for the suitable process for gummy and jelly products at the Application Technology Center in Dierdorf, Germany, right from the very beginning. Feel free to contact us!