With pharmaceutical companies increasing development of highly potent drugs, manufacturers of those drug products, both innovator companies and contract manufacturers alike, continue to seek better contained manufacturing equipment to ensure protection of both personnel and products.
While potent drug products come in a variety of dosage forms and potencies, many are formulated as oral-solid-dosage drug products with low percentages of drug substance. In addition, some potent drug products target diseases with relatively small patient populations. As a result, production batches of potent drug products often are smaller than batches of drug products that target diseases with large patient populations.
If your potent development product seems destined for small-batch commercial production, it might be beneficial to focus on smaller offerings when considering manufacturing equipment for your potent drug product. For instance; a capsule filler that is appropriately sized for both small and medium batch manufacture, while also being flexible and nimble enough to deftly handle the many changeovers inherent in the dynamic development process, may be the perfect solution to perfectly span the entire lifecycle of your product. In such a case, bigger may not necessarily be better.
Syntegon's GKF 720 HiProTect capsule filler was designed to meet just such a challenge, striking the perfect balance between small-scale process development batches and small to medium-scale batch production, while simultaneously being able to offer containment of potent drug products as low as OEB5.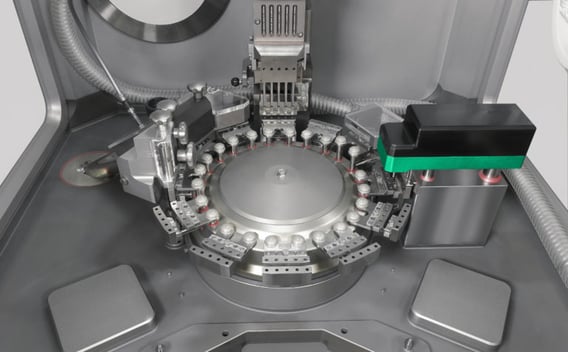 Syntegon's newest and most advanced capsule filler, the GKF 720 is built on Syntegon's innovative plug-and-play dosing-station platform which allows changeover of dosing technologies in just minutes; perfect for the development phase of your product lifecycle. In as little as ten minutes, you can quickly change from powder dosing in a mini-bowl – for small development-type batches – to powder or pellet dosing for small to medium production batches with throughput as high as 43,500 capsules/hour. In addition, the versatile servo-driven GKF 720 boasts a variety of options that will give you complete confidence in your capsule quality, such as the integrated gravimetric scale system (IPC), or the NWDS (Net Weight Detection System) for fill weight determination of pellet, tablet, and powder micro-dosing.
Your manufacturing staff will appreciate the GKF 720 HiProTect too, as it features an automated, washable containment system that keeps operating personnel safe from potent materials during the cleaning process. Plus, narrow door frames provide maximum visibility into the production cabin, while a raised table-top keeps wash-down water from penetrating sensitive mechanical spaces. All of this means that the GKF 720 HiProTect is safer and easier to clean.
The innovative GKF 720 HiProTect may be the perfect fit for your potent development and medium-scale production needs. Visit our product page today to learn more about the GKF 720 HiProTect capsule filler, and click here to view a video on the GKF 720.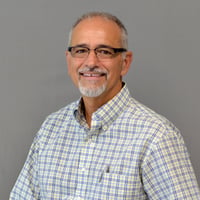 Tom Myers, Business Development Manager, manages our capsule filling lines
He graduated from Loyola University, Chicago and has worked in pharmaceutical manufacturing/operations for over 30 years for companies such as Abbott Laboratories, Genentech, Boehringer-Ingelheim and Biogen.