To meet customer expectations, food manufacturers need to rethink their products in terms of sustainability along the entire life cycle. Not only the source materials and production processes of the product are crucial; the recyclability of the packaging also has a major impact on the ecological footprint.
The German chocolate manufacturer Ritter Sport has set itself the mission to use paper-based packaging for its products. On the equipment side, the company is supported by Syntegon Technology. The packaging machinery specialist has helped Ritter Sport develop packaging solutions for its popular chocolate bars for more than four decades. The latest successful project in a series of many innovations: paper pouches for the colorful Ritter Sport mini editions.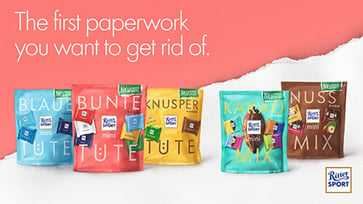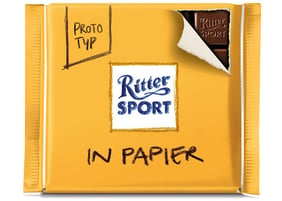 Development as a real partnership
"Our goal was to use a material out of renewable resources, which can be disposed via the paper recycling stream. This also meant, that we needed to find a fitting packaging machine, which is not only able to gently handle paper, but also allows a flexibility for different packaging formats and runs stable at high speed," says Ivo Buncuga, Head of technical department at Ritter Sport.
Providing flexibility
Flexibility was an important requirement in the project: Since the Ritter Sport minis are not packaged in paper pouches for all markets right from the start, the solution needed to be easily adaptable to different packaging materials and styles. The SVE 3220 DoyZip vertical bagger processes both paper and plastic film, giving the customer the utmost flexibility during production.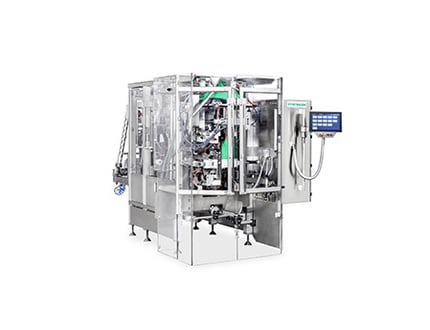 This new paper packaging solution is an important milestone in Ritter Sport's sustainability efforts. However, the German chocolate manufacturer is far from slowing down. "We have exciting projects in the pipeline. We are already working with Syntegon to find possibilities of using paper as a primary packaging for our original square chocolate tablets," Ivo Buncuga says.
Working on future-proof packaging
In autumn 2020, a small quantity of Ritter Sport's chocolate tablets Schoko & Gras wrapped in paper were launched in a test market. Step by step, Ritter Sport will switch further primary and secondary packaging to paper-based solutions. Ritter Sport's reliable partnership with Syntegon has come full circle: More than 45 years ago, the chocolate manufacturer invented its signature Knick-Pack® format together with the Syntegon experts at the former Tevopharm site in Schiedam in the Netherlands. "Today, we are still in close contact working together on new packaging solutions. This time focusing on sustainable versions of our packaging that still has the characteristic design," says Ivo Buncuga.
Get in contact with us to learn more about sustainability.