Scale it up quicker and do it more efficiently (i.e. less cost). If you work in pharmaceutical development, you are likely familiar with this mantra. While regulatory hurdles for drug developers seemingly increase by the day, product development budgets don't seem to follow the same upward trajectory. In fact, it seems that development and manufacturing personnel, more often than not, are asked to do more with less.
With the ever-increasing expense of bringing a drug to market, it is no surprise that development and manufacturing organizations are tasked with being more efficient in developing drug products. At the same time, developing a robust manufacturing process demands a clear understanding of the design space that will lead to process robustness. Taking shortcuts can result in a problematic manufacturing process down the road. However, there are ways to accelerate process development while better characterizing your process and formulation, providing you with confidence that your manufacturing process will prove to be up to the challenge of commercial production.
The TPR 200 Tablet Press from Syntegon can help you do exactly that. The TPR 200 boasts a suite of monitoring tools that let you know exactly how your formulation is performing during the tablet compression process. You no longer have to guess at what is happening on your tablet press when you have tools such as real-time ejection force, scraper force and punch displacement monitoring. Further, the Data Acquisition System available on the TPR 200 records the data most important to you in understanding the performance of your formulation. This valuable tool will help you identify trends in performance that might signal trouble moving forward, allowing you to quickly adjust your formulation or tablet compression process without the need for costly additional development batches.
When it is time to scale up your tablet manufacturing process, the multiple turret options available on the TPR 200 help you realize a seamless process scale-up. Dwell time is one of the most critical aspects of manufacturing tablets, and the pitch circle diameter of the tablet-press turret is critical to dwell time. Often, manufacturers have to switch from a development-size tablet press to a larger press when increasing batch size. The resultant increase in tablet-press turret size, and thus pitch circle diameter, means your dwell time will be reduced considerably unless you significantly decrease press speed, which in turn means a decrease in throughput. But, not on the TPR 200. The TPR 200 offers combination B/D- tooling turrets for maximum flexibility during smaller development batches. Then, when it is time to increase batch size, simply switch the development turret for a production turret that enables output as high as 230,000 tablets/hour. The pitch circle diameter for all turrets on the TPR 200 is the same, so your dwell time stays constant and you have one less thing to worry about when increasing batch size.
The TPR 200 tablet press offers the size and flexibility to handle all of your tablet manufacturing needs. From small development batches, to production batches, the TPR 200 provides the tools to fast track development of your tablet product.
Visit our product page today to learn more about the TPR 200 Tablet Press.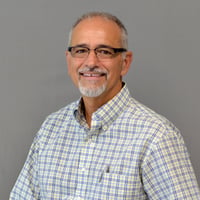 Tom Myers, Business Development Manager, manages our capsule filling lines.
He graduated from Loyola University, Chicago and has worked in pharmaceutical manufacturing/operations for over 30 years for companies such as Abbott Laboratories, Genentech, Boehringer-Ingelheim and Biogen.