Climate change and plastic littering can no longer be ignored – and neither can their effects on society. Packaging suppliers around the globe are facing considerable pressure: policy makers and consumers are requiring them to develop sustainable packaging alternatives that put less strain on the environment. For many manufacturers, mono-material plastics and paper-based alternatives have become a go-to strategy with many facets, offering different advantages in terms of recyclability, carbon footprint, and product protection.
As experts for versatile packaging systems, Syntegon is steadily developing its solutions to cater to sustainable packaging needs. Our dedicated whitepaper lays out the materials and related processing challenges in greater detail. We have compiled some key insights for you to dive deeper into this fascinating topic.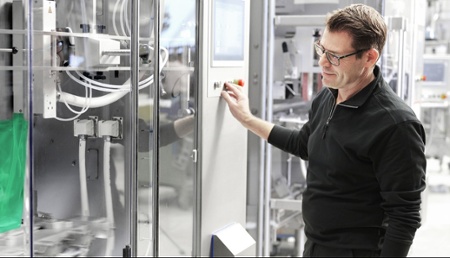 We support you from the initial idea to the finished package on the shelf – together we select the optimum sustainable packaging material for your product.
Not all materials are equally eco-friendly
Paper and cardboard are some of the most popular packaging alternatives among consumers. They are made from renewable resources and have a recycling rate of 72 percent in Europe, which is the highest for packaging materials in this region. Also, they have a lower carbon footprint compared to fossil-based counterparts with the same packaging weight. However, paper does not only require additional barrier films or functional treatments for optimum product protection. Fiber-based packaging is heavier than plastic, which means brand owners require a larger material volume to package the same amount of product – which, in turn, means it is not necessarily the most sustainable alternative for all products.
The sustainability of a packaging material is based on more than its carbon footprint. Parameters such as production processes throughout the value chain, resource consumption, the material lifecycle, and end-of-life options such as the energy recovery from packaging materials, as well as environmental effects like land use, need to be considered.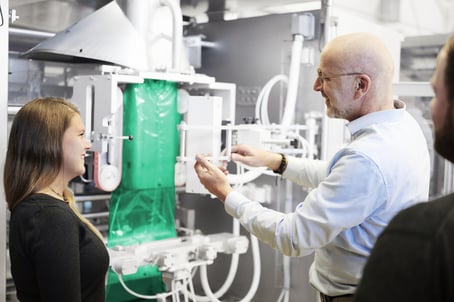 In our laboratories we test packaging material alternatives under near-production conditions on different forming and sealing units until we have found the ideal solution for your packaging process.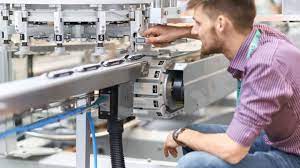 Our upgrade kit allows customers to transition to sustainable packaging materials like cold-sealable paper on their existing horizontal flow wrapping machines – without any restrictions regarding speed or format.
Download flyer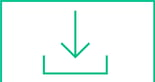 Plastic: from recyclable to biodegradable to compostable
It is commonly known that mono-material films are more sustainable than multi-layered variants because they can be easily recycled. Other alternatives have also gained ground: bioplastics, for example, are especially appreciated by brand owners whose products require higher barrier properties and are prone to littering, because they offer additional waste management options like composting.
Biodegradable bioplastic is made from fibers such as grass or sugar cane and decomposes into organic matter. The outcome of the natural biodegradation process depends on the material itself, its thickness, and factors such as humidity and temperature. Compostable bioplastic on the other hand can only biodegrade in a specific composting environment under controlled conditions.
If these materials are disposed of properly, they offer important environmental benefits – even when bioplastic is burned, it only releases the amount of CO2 that the original biomass crop absorbed during its cultivation, which is significantly less than conventional plastic. However, since not enough bioplastic is circulating yet, there are no established recycling systems, which makes it difficult to make use of biodegradable bioplastic packaging solutions to date.
In case you want to take an even deeper dive into the production processes of paper and different types of plastic, we are happy to recommend our whitepaper on sustainable packaging materials. It provides practical advice for packaging manufacturers and compares the benefits and challenges of eco-friendly packaging options so you can make an educated decision for your products.
Request flyer for free: