Nine prospective mechatronics engineers embark on a three-and-a-half-year training program at the Waiblingen and Remshalden sites
A wide range of courses on machine assembly awaits young professionals
Waiblingen and Remshalden currently have 35 vocational trainees
Waiblingen, 5 September 2023. Nine junior employees set out to earn credentials as mechatronics technicians at Syntegon in Waiblingen on September 1. They had passed a recruitment test to qualify for this program a year ago. A three-and-a-half-year apprenticeship at Syntegon is the launch pad for a career in plant engineering. Candidates who excel can shave six months off their apprenticeship time. The company employs 35 apprentices at Waiblingen and Remshalden. Waiblingen conducts the first year of training for all apprentices at both locations.
Mechatronics is very much a focal point for Syntegon, a leading supplier of processing and packaging technology. "Modern machines are complex systems. It takes knowledge of mechanics, electronics, pneumatics, and hydraulics to assemble and operate these machines. We convey these theoretical and practical skills to the next generation," says Manfred Bühler, who is responsible for the mechanical engineering aspects of vocational training at Syntegon in Waiblingen. He notes that this also benefits in-house staffing efforts: "Once junior staff complete their apprenticeships, we can deploy them on the shop floor where there are always varied and exciting jobs to be had."
Learning the basics of metalworking
Until that time comes, trainees can gain plenty of practical experience in the company's training workshop on the Waiblingen factory premises. The prospective mechatronics technicians start by learning the fundamentals of metalworking and how to assemble various machine components. They are also trained in mechanical and electrical aspects. Second-year apprentices rotate through various departments at Syntegon to build on the fundamentals they learned in the first year. The first part of the Chamber of Industry and Commerce exam is also administered during this period. It counts for 40 percent of the final grade. In the final 18 months of the apprenticeship, the budding mechatronics technicians learn more about production, development, and quality assurance. This is when trainees are assigned to their future departments based on their particular interests and talents. It is also marks the start of perhaps the most exciting stage of training when apprentices join forces with experienced coworkers to help assemble machines. The point of this exercise is to reinforce their knowledge and prepare for the latter section of the final exam.
Meet, greet, and build team spirit
On the first day on the job, the group had plenty of time to get to know one another and learn more about Syntegon before the actual training commenced. After the aspiring professionals met with training managers, works council members, and apprentices' representatives, they were issued work clothes and company ID cards. Next on the agenda was a communal lunch, followed by a preview of the training phases ahead and a visit to the various departments on site. Two events, a barbecue and an orientation hike, held shortly before training kicked off served to build team spirit among the new coworkers. This is Syntegon's way of easing trainees' transition to the working world and strengthening the bond between apprentices and the company as they set off on a joint path.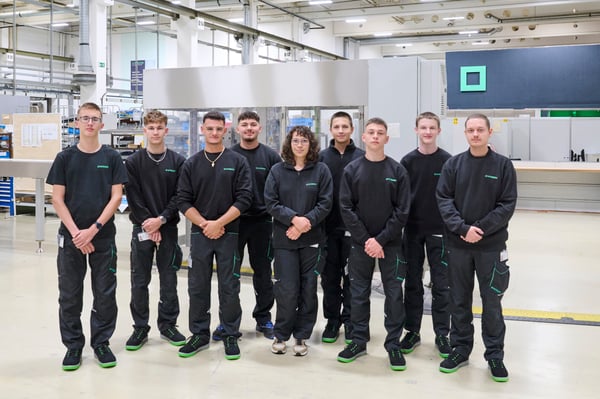 Six trainees at the Waiblingen site and three at the Remshalden site embarked on careers at Syntegon.
An important contribution to value creation
Melek Sancakdaroglu, trainee supervisor at Syntegon in Waiblingen, says: "Our priorities are to train junior staff in a realistic way, to nurture their talents as best we can, and to qualify them to perform their varied tasks at the company." This is s why Syntegon insists on offering unusual opportunities to apprentices. This includes working with state-of-the-art technology such as a 3D and resin printer, bonuses for good grades, and joint activities throughout the apprenticeship such as go-carting and a visit to Soccer Olymp in Fellbach. This policy has met with success: In 2023, five trainees performed so well that they completed training well ahead of time.