In recent decades there has been a significant increase in the number of highly potent active pharmaceutical ingredients (HPAPIs) being developed, with some analysts predicting continued growth of this sector of 10% or more in the coming years. For Oral Solid Dosage (OSD) drug product manufacturers, handling of such potent drugs can present a number of challenges, including potential cross-contamination of products being manufactured in close proximity to one another, as well as the need for increased protection of manufacturing personnel.
While opinions can vary concerning what officially constitutes an HPAPI, most companies consider anything that falls under an Occupational Exposure Band (OEB) 3 or 4 to be considered potent enough to warrant special handling during manufacture. Occupational Exposure Limit (OEL) ranges can vary from company to company, but most often OEB 3 is represented by an exposure range of 10-100 µg/m3, with OEB 4 described as 1-10µg/m3. Many companies further divide OEB 3 into two sub-categories, 3A and 3B, with 3B being the most potent.
During potent drug-product manufacture, the potential for operator exposure during unit operations can range from very high, during the dispensing step when pure API is weighed-out, to somewhat lower during final unit operations such as tablet compression or capsule filling, where the potent API has been diluted with various excipients to create the final blend. Nevertheless, even a dilute blend containing a potent API can present a significant health hazard, especially to personnel exposed to the manufacturing process for several hours at a time.
In most cases, a variety of Personal Protective Equipment (PPE) strategies might be employed, from outfitting personnel with simple textile uniforms, protective gloves and dust masks, for less potent products, to wearing of Tyvek suits and use of Powered Air Purifying Respirators (PAPR), or in some cases, supplied air, for especially potent/toxic products. However, PPE should not be utilized as a first line of defense. Rather, it should be viewed as supplementary to the protections provided by appropriately contained processing equipment.
Syntegon's ProTect and HiProTect capsule fillers were specifically designed with potent manufacturing operations in mind, ensuring maximum protection of manufacturing personnel, while also eliminating cross contamination concerns. The modern servo-driven design means the machines run cleaner and more efficient, which translates into reduced need for operator intervention, keeping personnel safe while running products as low as OEB 4 (ProTect) and OEB 5 (HiProTect). In addition, the automatic cleaning operation makes certain that personnel are not only safe during operation, but also during the cleaning process. Add to this the fact that these units can effectively be mated to peripherals such as a capsule polisher, metal detector and check-weigher while maintaining appropriate containment, and it is easy to see why the ProTect and HiProTect lines of capsule fillers have been the choice of successful pharmaceutical manufacturers around the world.
Visit our product page to learn more about the ProTect and HiProTect capsule fillers.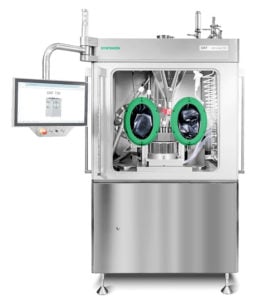 GKF 720 HiProTect capsule filler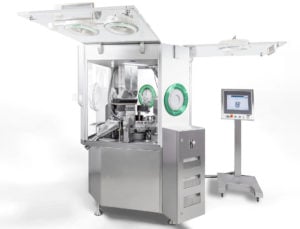 GKF 2600 ProTect capsule filler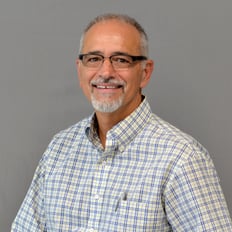 Tom Myers, Business Development Manager, manages our capsule filling lines.
He graduated from Loyola University, Chicago and has worked in harmaceutical manufacturing/operations for over 30 years for companies such as Abbott Laboratories, Genentech, Boehringer-Ingelheim and Biogen.