In our last eCommerce blog post, we've discussed which trends affect eCommerce. This blog post will answer the question how can manufacturers and merchants best respond to these trends in terms of their packaging solutions and processes.
The main trends driving eCommerce are the higher order frequency and volume, personalization of products and product diversity due to unlimited space. How does this affect the packaging solutions and processes?
SMALLER BATCHES, VARYING PACKAGING SIZES
When consumers place orders more often, the result is smaller and smaller quantities and, in turn, the need to manufacture smaller and smaller batches. Not only do smaller packaging units require a specific packaging design; production planning will also become more com­plex for manufacturers. They will need to adapt to (compared to stationary commerce) even shorter cycles and more frequently product changes.
One potential solution: in the context of online commerce, manufacturers could invest in several smaller machines instead of a single high-speed line. These smaller machines could e.g. supplement the main line and be used to cover the additional quantities produced by eCommerce. Flexible machines ensure also fast format changes.
FLEXIBLE FEEDING AND PRODUCTION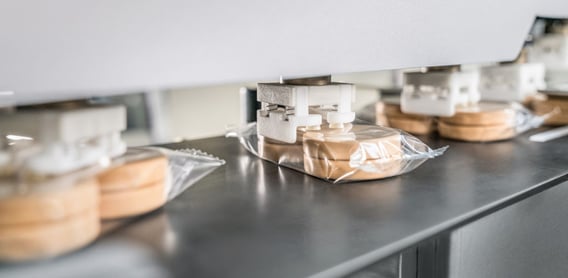 With the growing product diversity, the challenges do not lie in the different product types but in production itself, and in product feeding.
In order to handle highly variable order quantities and packaging sizes, separating the primary and secondary packaging processes can be helpful. Pick-and-place robots should be able to accommodate diverse packaging sizes and product variants.
The packaging systems themselves should be sufficiently flexible to process new product formats, like seasonal packs or special sale packs.
EVERY SHOPPING CARD IS DIFFERENT
The extent to which ready-made transport packaging matches the size of a given order is largely a matter of luck. Companies who choose to use ready-made boxes may end up shipping a great deal of empty space, may need additional packing material, or may even have to switch to a new type of box – even if they already keep a range of box sizes in stock.
Packaging on demand, such as mass customizing tailor-made packages, can solve this problem. Cardboard secondary packaging is only manufactured after the order has been received; an endless sheet of cardboard is cut to exactly fit the products ordered.
Using this type of precisely tailored packaging not only reduces waste, but can also help fulfill orders more quickly, since it is clear from the beginning how to best arrange the different products inside the box – a vision system scans each product and records its dimensions; then the system determines its optimal placement in the box.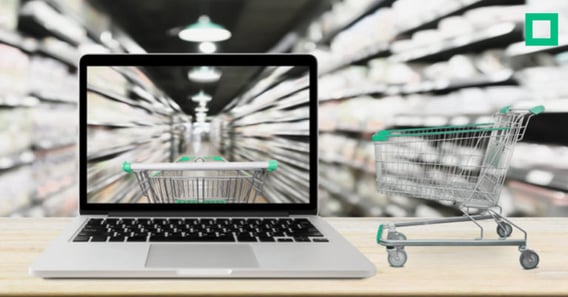 CUSTOM-PRINTING PRODUCTS
Shopping carts are not the only individualized aspect of online shopping placing new demands on manufacturers' and merchants' logistics chains. Customers are especially fond of individualization when it comes to gifts. They can help shape the present, be-coming designers in the process. If the goal is for consumers to individualize the packaging, then additional (digital) printing solutions will need to be added to the packaging line.
These solutions can either be integrated into the existing line or operated independently – e.g. as their own "mini" equipment line, de­dicated to serving the smaller gift-packaging segment.
SUMMARY
It remains unclear exactly how food logistics will change in the future – for example, whether online merchants like Amazon will completely do away with their warehouses and intensify their role as platform providers. The next few years will show which variants customers prefer.
This aspect raises a number of questions for food manufacturers, such as: is operating their own distribution center financially viable? How will the role of retail change? And what expectations do consumers have in terms of sustainability?
One thing is already clear: certain logistics-re­lated responsibilities are increasingly shifting from retailers to manufacturers. From now on, the latter will increasingly be expected to aggregate various products for shipping – as quickly as possible.
Consequently, the following applies: there's no such thing as the one "true" eCommerce solution. Ideally, all elements of the production or packaging line – e.g. feeding, primary packaging, and shipping – should interact smoothly and be designed for online commerce. And machine components that offer solutions for the challenges of eCommerce are already available.