Casually laid back with one arm folded, Thomas Beerli looks at his observers in that little picture taken 2019 in Lisbon. His voice sounds friendly and calm, a little nostalgic here and there, as he shares a story about a life around the globe, his work with people of all cultures – and one little diary.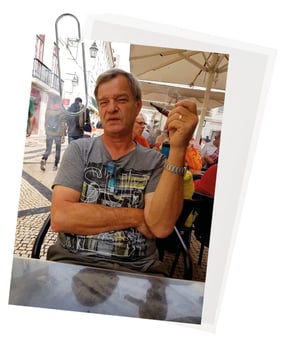 Thomas Beerli has been working as a field service technician for Syntegon for almost five decades. His job has led him from his hometown Neuhausen in Switzerland out into the world. Today, he looks back on 63 countries visited on six continents. That makes for almost one third of countries on the planet to date. Quite the record.
Three years after Beerli finished his machinist apprenticeship in 1974, he meets his future wife Pilar during his first, six-month overseas assignment in Peru. After flying back and forth to be with each other, they move to Switzerland in 1978 and get married that same year. The couple will later have two kids, a son and a daughter.
Beerli's family visits whenever possible. For two years, they even all live in Singapore, his kids go to the local Swiss school. For more than 40 years, Beerli's wife Pilar will keep record of his trips around the world in a little diary…
In her diary, Pilar keeps track of all countries her husband has traveled to in what year and on which day. This excerpt shows her overview of all countries visited from 1988-1998.
"The very first entry lists June 25th, 1978 – Iran", Beerli reads from the diary, "and then tells you what country I have been in – on what day and in what year", he explains. "So after Iran […] it says: 1981 USA, 1983 Canada, 1984 Yemen, 1988 USA, 1989 Peru/Ecuador […] 1998 Australia…" He goes on for a while. "I have kept a world map, too, and put a dot wherever I travelled."
With all of these records, one could technically backtrack and calculate the total amount of miles travelled in Beerli's life – for those who enjoy Excel spreadsheets.
Countries Thomas Beerli has visited as a field service technician in the past five decades.
"People are nice all over the world"
Flexibility is one on Beerli's list of needed skills as a technician. As he reflects his past onsite visits in countless different countries and cultures, he does not recall suffering from any true culture shocks. "Essentially, people are nice all over the world – you can get along with anyone. Interhuman relations are never the issue – it's different work environments that vary from country to country. People work under different conditions around the world and you have to adapt to these."
A Globalizing World
It might sound odd to the so-called "digital natives", but the world as we know it today is still young. How have digitalization, Internet of the Things and new Digital Services influenced and shaped the job of a field service technician throughout the years? Beerli remembers amusedly: "You know, back in the day, if you really had to send a photo of something, you had to have it developed somewhere – wherever you were – put that actual photo in an envelope, bring it to the post office and, if you were lucky, it would get to Switzerland within a week. I once had to order Spare Parts in Iran and we would do so using a teletypewriter. Now this was even before fax machines – or email, all of that only started around 92/93.. Today, you just send a WhatsApp, right?" So much for the good old days.
Nowadays, services such as Remote Service allow to analyze and support online via machine connection. Beerli is convinced: Despite the progressing digitalization, personal contact stays essential to build and maintain the relationships with customers. After all, as a technician, you are the face of the company.
Not to settle
Thomas Beerli has been with the company for over 47 years now. "I am pretty sure I spent more time on airplanes than on my own couch." Settling down is not on his agenda. Beerli still works for Syntegon on a freelancer contract. Several times he had been offered to stay and work in the same office, e.g. to head the production workshop in Beringen – but he declined. "I enjoy what I am doing and I never had an intention to leave my position. […] It gets easier", he explains, "you and the customer both benefit from your expertise. And the more experience you have, the faster you will be successful. […] Why would I leave my position and start from scratch?"
Whenever possible Beerli shares his experience with younger technicians if they happen to work for a customer onsite together. As their experienced "mentor", he helps to lead them to the same success and shapes the next generation's path.
Thomas Beerli is now 64 years old, he and Pilar have been married for 42 years, their kids are all grown-up. "You know, I always say, I am kind of married to the company a little more than I am to my own wife." He laughs.
Besides his lively and enthusiastic nature, Thomas Beerli surely charms with a delightful sense of humor…
Thomas Beerli and his wife Pilar in 2018 in Dubai.
If you are now curious to learn more about how to follow the same career path and work as a field service technician you might want to check out our Syntegon program Service Engineer Professional which provides a systematic training in the area of service. In addition, Syntegon Academy further offers a wide range of training formats.