Rechon expands CMO capacities with MLD cartridge filling line from Syntegon
Among the many pharmaceutical containers, cartridges have been experiencing significant growth for years. The increasing demand for injectable drugs and a rise in acute and chronic diseases are reinforcing this trend, which drove the Swedish company Rechon to rethink its approach. To successfully implement current customer projects, the contract manufacturer significantly increased its filling volumes with a new MLD cartridge filling line from Syntegon.
Maria Wingren, Head of Operations at Rechon, has witnessed the cooperation between Rechon and Syntegon since the very beginning. When she joined the company in 1995, three lines from Syntegon were already installed. Two years later, she was involved in her first installation of a new Syntegon line. "From my perspective, Syntegon is one of the market leaders when it comes to cartridge filling. I have thorough experience with their technologies, and I know their project management and services are just what we need. So, it was a logical choice to turn to this long-term partner for our new cartridge filling line," Maria underlines.
Cartridges – a versatile container
Flexible processing technology is key when filling cartridges: Varying in size and volume, the containers are used for many different pharmaceuticals in single-chamber or dual-chamber systems. Rechon has the capabilities to process different cartridge sizes of 1, 1.5, 1.6 and 3 milliliters – containers that Syntegon's MLD line handles with ease. For Maria, its benefits are obvious: "The line is capable of great speed. But for us and our customers, the priority is on reliable processes and results. We handle a lot of expensive APIs, so we need low rejection rates."
For Rechon, the priority in cartridge filling is on reliable processes and results; in the case of expensive APIs, low rejection rates are required.
The MLD 3061 is suited for medium outputs and can handle up to 300 cartridges per minute. Moreover, the patented transport system offers several advantages: instead of a conventional transport system, a specially developed clip system gently conveys the cartridges from one station to the next. This not only results in a more precise filling process, but also in reduced overall line dimensions. The smaller footprint is especially useful in combination with barrier systems and in cleanroom environments with limited space. The machine's design also ensures optimum accessibility for easy operation and maintenance.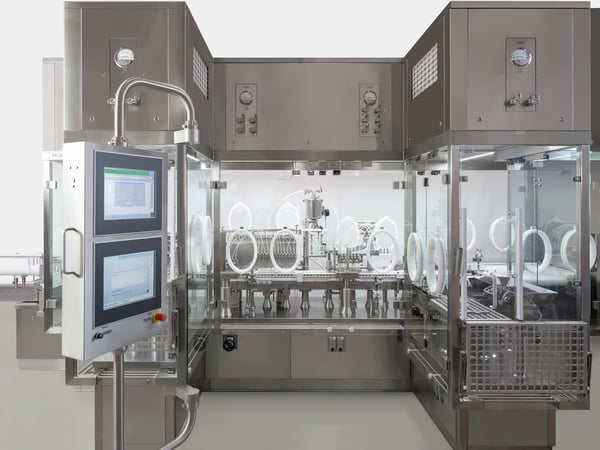 The MLD 3061 from Syntegon is suited for medium outputs can handle up to 300 cartridges per minute.
Project finished just in time
The cooperation between Syntegon and Rechon went exactly according to plan – despite the Covid-19 pandemic. Rechon placed the order in May 2020, the FAT took place in August 2021, and the CMO started commercial production as planned in October 2022. "In fact, it is the very first machine project I have accompanied where every single milestone in the project was accomplished as scheduled," Maria emphasizes. "Considering the long qualification process of cartridge lines including further equipment like tunnels, one year from delivery to production is a very impressive achievement."
The new cartridge line already proved its worth, even before it was taken into operation: Rechon was able to win two new customers and extend another contract from the clinical phase into commercial production due to the prospect of increased filling capacities. "We are very confident that there is more to come," Maria says. "With the new MLD line from Syntegon, we are well equipped to answer current and future needs of our customers."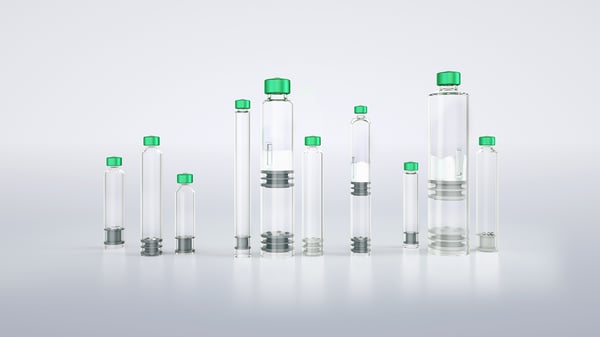 The market for cartridges is growing at a noticeable speed due to an increasing demand for injectable drugs, as well as an aging population and a rise in acute and chronic diseases.
Would you like to learn more about our vial filling or do you need support with your project? Contact us! Our experts will be happy to help you.