When it comes to sustainability, Swedish coffee producer Arvid Nordquist relies on vacuum packaging technology from Syntegon. This successfully supports the reduction of CO2 emissions and the consumption of conventional petroleum-based packaging films.
"We see ourselves as a responsible company that operates sustainably and responsibly [...]," says Managing Director Anders Nordquist. "This applies not only to raw materials, but also to production and, above all, packaging."

In addition to using only renewable energy in its roastery, the company identified other levers to meet its sustainability goals: The choice of packaging film as well as the packing style.

Freshly packaged: the ground coffee goes into the still unsealed bags.
The conventional vacuum packaging used to date consists of multilayer composite materials with high proportions of malleable aluminum. Recently, Arvid Nordquist, together with film specialist O. KLEINER and Syntegon, switched its packaging to a composite film without aluminum. This consists of 90 percent renewable raw materials and thus supports CO2 reduction. However, the new film also poses some challenges for production. Like other plastics, it tends to return to its original shape after bending (memory effect).
"Conventional sealing and forming technologies can compromise the integrity of the sustainable film," Nordquist explains.

"Arvid Nordquist has relied on Syntegon's PKD vacuum packaging technology since installing its first vacuum packaging line in 1994," says Johan Hintze, managing director of Kafeco Nordic, Syntegon's distributor. "With our expertise, we have helped the company [...] improve its packaging processes with an updated version of the PKD."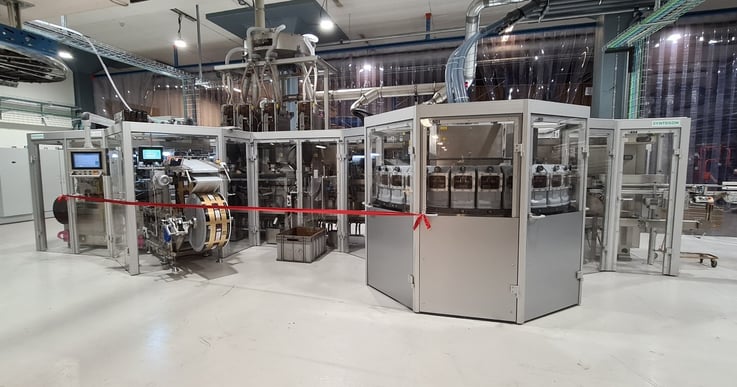 The new PKD before commissioning: The machine can produce up to 130 vacuum packs per minute. The vacuum chambers (on the right) ensure packages with as little air as possible.
The mandrel wheel packaging machine forms, fills and seals up to 130 vacuum packs per minute. Low sealing temperatures and shorter sealing windows play an important role in the revised PKD: the outer film layer does not melt, preventing it from sticking to the sealing jaws. Preheating of machine components bypasses the memory effect and enables more efficient forming of the aluminum-free film.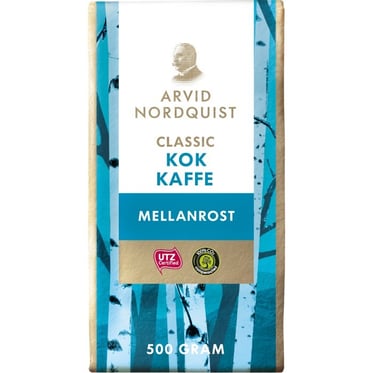 A major brand: Arvid Nordquist stands for sustainably produced bean coffee that has established itself throughout Scandinavia.
Going forward, Arvid Nordquist's close collaboration with Syntegon on sustainability challenges will continue to pay dividends. "We are currently focusing on mono-materials that can be easily recycled mechanically," Nordquist says. Thanks to its sealing technology, PKD fulfills a core requirement to also process this type of film safely in the future.
Further information about Arvid Nordquist: www.arvidnordquistcoffee.com