Integrated robotic solutions are nothing new for Syntegon. With decades of robotics experience, newer developments are always underway for us. In 2019, we participated in the PACK for a Purpose: Robots Fighting Hunger at one of the largest packaging tradeshows, PACK EXPO. Non-profit organization, Blessings in a Backpack, challenged companies to leverage their robotic solutions for a good cause to provide meal kits for school children on weekends where they might otherwise go hungry.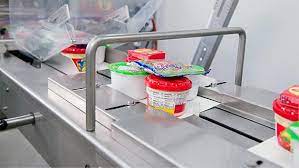 Example of the meal kits wrapped with a Pack 102 flow wrapper
Reproduction for press purposes free of charge with credit "Picture: Syntegon"
We did just that by integrating not one, but three FANUC robots with a Pack 102 flow wrapper machine. This idea catalyzed from what was brought to the International Bakery Industry Exposition (IBIE) in 2019. At IBIE, we introduced our entry-level Pack 102 horizontal flow wrapper using one FANUC SCARA robot. This packaging solution with light automation is ideal for small to medium-sized bakeries and other companies. While at the show, product manager at Syntegon Packaging Technology, Kelly Meer, stated, "Visitors will experience a cost-effective solution. Even for an entry-level solution, robotics can be an option. We have a lot of experience in implementing robots into our proven flow wrappers." The FANUC robot runs without interruption and is able to carry out 50 picks per minute. In total, up to three robots can be included in the Pack 102 system.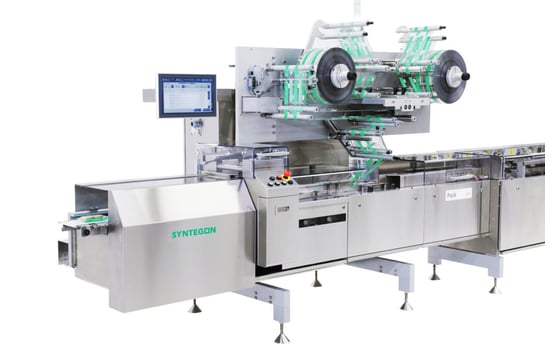 The Pack 102 horizontal flow wrapper integrated with 3 FANUC robot arms
Reproduction for press purposes free of charge with credit "Picture: Syntegon"
The three-robot system is what was later introduced at the PACK EXPO exhibit for Blessings in a Backpack. The integrated system included three independent FANUC robotics systems that pick and place various products onto a card. On the end of the wrapper infeed a card feeder inserts a paperboard card into a servo driven continuous motion infeed chain of a Pack 102 horizontal flow wrapper.
Utilizing 2D vision and dual conveyor tracking, the SCARA-6iA 4-axis robot detects and prioritizes products from two low-friction flat belt conveyors. The second robot, the M-1iA, is a compact high-speed Delta robot, which fits into a tight workspace. This robot precisely detects product location from two indexing side-by-side conveyors using 2D vision. The final robot used is the LR Mate 200iD, a compact six axis-articulating robot, which picks product from two different bulk bins using 3D vision. The 3D vision differs in that it detects product location and orientation of random product on top of each other in a bin or on a tray. With the advanced tracking software, products are picked and placed with the same precision and quality as if the products and infeed of the packaging machine were not moving.
The integrated system provides the end user the ability to capitalize on 2D and 3D vision technology, along with three different robotic controller platforms. Each robotic platform detects and prioritizes six independent production flows simultaneously and in sequence, which operates from one Human Machine Interface (HMI) located on the flow wrapper.
Many entry-level companies are required to provide "High-Mix Low-Volume" product manufacturing to compete with the continuously changing markets and customer demand. Traditionally this has been an application for robotic automation due to the necessary flexibility for quick changeover, ROI, lack of labor reliability, and cost.
This easy-to-use solution combats the traditional way of thinking when it comes to automation. This innovative technology allows various product flows to enter the system, prioritizing the picking of product from a randomly oriented pile, tray or bin based on product location and configuration needs. It utilizes dual motion tracking and 3D laser-assisted vision to pick and place the assortment of products into the infeed of a continuous motion flow wrapper.
Syntegon prides itself on providing products and services designed to spark enthusiasm and improve quality of life.