Syntegon debuts comprehensive showcase of packaging machines and systems to North America
NAM SVX premiere: Game-changing new flexible variants for the VFFS market

Continuous distributer: New Syntegon DCG discharge station for gentle handling

Flexible line solution: Integrated horizontal packaging system with a new, innovative start

Digital showcase: Robotic competence on the smallest scale - Versynta microBatch

Decatur, Georgia. July 7, 2023. At Pack Expo Las Vegas, Syntegon will be unveiling several revolutionary packing machines to the North American market, along with debuting an integrated and gentle horizontal packaging system – showing one of the new machines in action. In conjunction with the live machines, Syntegon will also be providing information on additional technologies through immersive holograms. Educational visuals and voiceovers will show the viewer all that the machines have to offer. Displaying yet another way Syntegon thinks outside of the box – or carton.
Ground-breaking VFFS: Debuting in North America
At the show, Syntegon will be unveiling its newest solution for the VFFS industry: the SVX series. Two of the machines will be on display – the SVX Agile and the SVX Duplex. The SVX Agile demonstrates show-stopping innovation through its high-speed production of 300 bags per minute with one film lane and its ability to handle the full bag range of any VFFS need. The Agile's patent-pending cross-seal control allows for custom and accurate sealing pressure. The SVX Duplex produces an unparalleled 600 bags per minute – thanks to two accessible film lanes – while still maintaining a compact footprint for seamless production integration. The platform is user-friendly, allowing for easy and quick changeovers and adjustments. Jason D'Arcy, Product Group Sales Manager – Vertical, states about the series, "From the start, the Syntegon SVX was designed to be a highly efficient, future-proof machine, with intuitive functionality for its operators. All configurations of the SVX feature the revolutionary new cross seal design, which allows for high speeds and reliability. The SVX Agile can be upgraded in the field to accommodate future bag style requirements. And, most importantly, the SVX was designed to be simple to operate, and even easier to maintain and clean."

Product distribution: Gentle handling as a priority
Another innovation making its NAM debut is the DCG (Distribution Continuous Gentle). The new Syntegon DCG – compact pullnose distribution system – discharges up to 32 rows of product per minute and is ideally suited for a variety of goods items such as sticky bars or baked products. Along with its soft pullnose system allowing for controlled product placement, the DCG has other flexible features, such as row aligners, quick belt changes, easy system integration, and fast commissioning. "When we were developing the Syntegon DCG, we placed particular emphasis on flexibility and hygiene. Depending on production requirements and layout options, different modules can be easily combined with each other. In addition, the distribution station's open design makes it easily accessible. Sloped surfaces help catch product residue and keep the production environment clean," explains Kimberly Kocer, Syntegon Product Manager.

Seamless packaging line: A piece of cake
Syntegon will have its newest fully integrated packaging line in action at the show – displaying a highly flexible system solution to package delicate products that require particular gentle handling.
The Syntegon DCG will be at the forefront of this system. It gently discharges 400 products onto the downstream packaging leg at 18 cycles per minute. Following the DCG, the FIT inline module continuously feeds the products to the hygienic and reliable HFFS Doboy Pack 403. Linear motors ensure gentle handling while preventing products from sticking together or accumulating along the way. The single-wrapped products continue at a rapid and steady pace on their way to the next leg of their journey – the RPP. The Robotic Pick-and-Place system's delta robots will then softly pick, group, and deposit them in batches of four into the infeed of the final machine – the Klikok MEC. The Midrange Endload Cartoner, with its patented rotary carton feeder, packs batches of four products in their own cartons – up to 170 cartons per minute, effortlessly showing that a packaging system really can be a piece of cake!
Pharmaceutical Innovations: Putting technology at center stage
Syntegon not only creates innovative technology for the food industry; it builds machines for the pharmaceutical world as well. At the booth, Syntegon will have both the TPR 200 tablet press and a section of the Versynta microBatch working cell on display, with the latter being spotlighted on the Innovation Stage by Dr. Laura Moody, Director of Product Management Pharma North America. The TPR tablet press produces up to an impressive 230,000 tablets of various sizes per hour and rejects defects through a single station feature. The gloveless Versynta microBatch fill/finish working cell follows the industry trend towards very small batches. The highly flexible and fully automated setup allows the processing of aseptic and highly potent batches of liquid drug product.

Futuristic display: Future-Proof technologies
Alongside all the eye-catching machines running live on the booth, Syntegon will also have two immersive hologram displays of other technologies from their portfolio – Osgood liquid-filling machines and Elematic case packers. For filling, the LFS is the next generation in clean and ultra-clean applications for preformed cups and tubs. The Elematic 1001TL, a North American favorite, standardizes topload case packing on a small footprint with large format range and quick changeovers.
Synexio: Start your risk-free digital journey
Visitors to Pack Expo Las Vegas will see the North American premier of Syntegon's newest Synexio package – Uptime. The second package of the cloud-based software solution, Synexio, makes sure that food and pharmaceutical manufacturers gain maximum value from their production data. Adding to existing features of the first Synexio package Monitor, Uptime identifies reasons for unplanned downtimes, benchmarks various machines and time periods, and detects safety issues. Additionally, Uptime's sustainability monitoring provides data on energy consumption and waste production, supporting customers to reduce their carbon footprint.

Service Agreements: Packed with Value
Syntegon will showcase their redesigned Service Agreements, which allow for seven different packages, each available at a fixed price. Customers receive support for basic services – including inspection and remote support – and guaranteed production performance for their machines. "Instead of selecting individual services for their requirements one by one, customers can decide which level meets their maintenance strategy best and receive exactly the products and services they need," explains Hao Ly, Senior Product Manager at Syntegon. Working side-by-side with customers, Syntegon develops the optimal maintenance strategy to reduce production losses, maximize equipment performance and minimize unplanned downtime.
Iconic names in packaging: United as Syntegon
Since the very beginning we've been at the forefront of the food industry, providing packaging machinery to the producers of everyday trusted brands. DOBOY. ELEMATIC. KLIKLOK. MAKAT. OSGOOD. SIGPACK. WOODMAN. Iconic names in packaging – all on the same team. United as Syntegon, we are all working toward the same vision: processing and packaging for a better life – through intelligent and sustainable solutions for everyone.
Learn more about Syntegon's technologies and services and meet the experts at Pack Expo Las Vegas, September 11th-13th. Visit us at booth C-2800.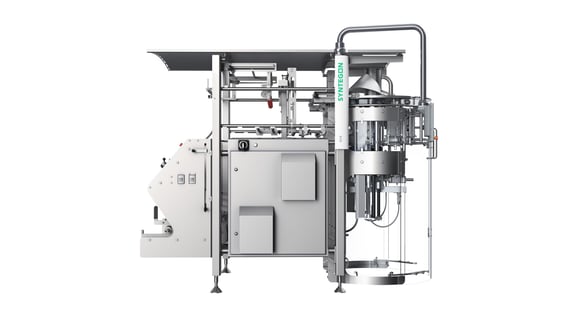 With the SVX series, Syntegon launches a game-changing solution for a wealth of VFFS applications.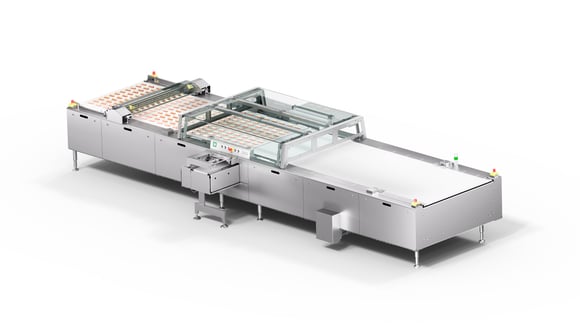 New Syntegon DCG discharge station for gentle handling, ideally suited for delicate baked goods or sticky bar products.
At Pack Expo Las Vegas, booth C-2800 in Central Hall, Syntegon will display its packed portfolio of new innovations and reliable classics – for both the food and pharmaceutical industries.
Download Press article