The future of endload cartoning. Packed with upgrades.
If you want to grow your business and future-proof your production, the Kliklok BEC endload cartoner is the optimal solution. Kliklok combines the benefits of the proven machine series with a wide range of major upgrades.
Specifically designed to meet your production targets, it is a perfect match for mid-sized businesses that require reasonably priced and robust technologies. The Kliklok BEC is the ideal choice for food to personal care to electronics industries. And many more.
Fast. Faster. Kliklok.
The new Kliklok BEC endload cartoner is built to withstand the demands of high-speed production environments. The quality materials and robust construction techniques ensure durability and reliability – minimizing downtime and maximizing productivity.
The new, upgraded Kliklok BEC endload cartoner displays:
an optimised servo drive system
a new Human Machine Interface (HMI) 4.0 for easy digital service connectivity
a redesigned, compact, rigid stainless-steel frame
new integrated controls – making the electrical cabinet redundant
Kliklok BEC – Experience meets progress.
"The new Kliklok BEC endload cartoner offers the benefits of our proven machine series combined with the latest technological advancements to meet the requirements of modern automated production processes. We put special emphasis on process stability, easy line integration and maximum connectivity with Syntegon's Digital Service Solutions."
– Maisha Cox, Kliklok Product Manager
Kliklok BEC Key Features
Rotary Carton Feeder
Meet the fastest rotary carton feeder in the industry – a patented Kliklok innovation. A straight-pick motion reduces wear on the suction cups. The short, rigid bars minimize deflection and provide for a reliable, continuous cartoning process.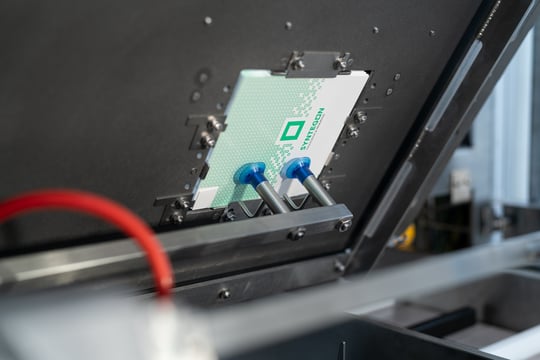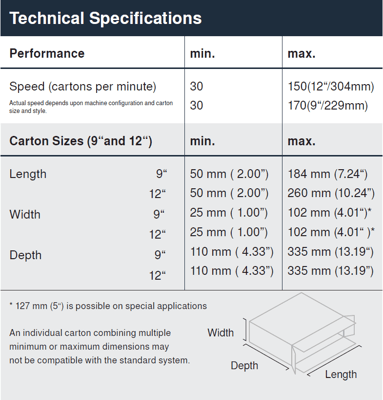 Frequently asked questions
The Syntegon HMI 4.0 supports the operator in this task. The HMI 4.0 is an intuitive, user-friendly interface that contains recipes and videos to guide operators through the changeover process. The Kliklok BEC endload cartoner has easy access to the entire machine, and the three-dimensional size change requires minimal tools. It can be completed in less than 10 minutes by a single operator.
A standard Kliklok BEC endload (sideload) cartoner is IP54 rated. It can be cleaned using a cloth and warm water. The BEC can also be customized to work in IP65 or caustic wash-down environments, allowing it to be installed in a variety of applications including high care environments.
At Syntegon, we have packaged our Service offering into Service Agreements for your convenience. Our seven agreement levels are packed with risk reduction, peace of mind and ultimately value. Effective asset and maintenance management both increases the lifespan and improves the performance and reliability of your equipment. This means fewer breakdowns, fewer subsequent repairs and less unplanned equipment downtime. We support you with standardized packages from inspection to guaranteed production performance of your machines. All levels are available at a fixed price and can be customized with additional services. Our experts will be happy to consult you to find the ideal Service Agreement for your production.
Yes, the Kliklok BEC can handle all types of board with ease. Cartons are generally manufactured from two types of board. Solid board is more commonly used for secondary packaging applications and comes in two types - virgin and recycled board. Virgin board is made from 100 percent virgin fibers while recycled board may consist of up to 100 percent of recycled fibers. This type is more economical, but it has less strength. The BEC endloader (sideloader) is equipped with our patented Rotary Carton Feeder which was developed specifically to cope with recycled boards at higher speed; giving you flexibility to handle all of your cartoning needs.
The standard hopper is 1,500 mm long and holds approximately 1,350 carton blanks (depending on board quality and thickness). This is approximately 10 minutes of running. Options are available for a longer hopper, if required. As an option, a BEC Cobot can be included to fully automate continuous carton loading. It is programmed to pick cartons off the pallet, place them on the hopper and gently push the cartons along the hopper at the right pace whilst ensuring cartons remain in their optimal position.
The newest version BEC endloader has improved its consumption rating. Now, it is more energy efficient, consuming 7 kWh during normal working conditions. Air consumption is 520 l/min.
The basic operator tasks consist of filling the hopper with carton blanks and filling the glue tank with pellets. Cobot solutions can be provided to load the hopper and to autofill the glue system.
The number of operators required for loading the product into the product infeed conveyor (PIC) really depends on the speed of the machine, product application and the overall level of automation of your packaging line. Syntegon can also provide various different loading options to automate manual tasks.
The new Kliklok BEC endloader is supplied fully compliant to CE / UKCA standard. Depending on the final destination, the machine can be supplied fully compliant to UL and AS3000.
As standard, the BEC endload cartoner is IP54 compliant. It can be wiped down with mild detergent and warm water. Optionally, the BEC can be installed in other environments, including high care where IP65 and/or caustic wash-down is required.
The BEC endload cartoner is shipped on a wooden pallet with the following dimensions and weight:
length 6.5m / width 2.3m / height 1.9m
packed weight incl. pallet 3,270 kg
Please contact your sales contact, if you have special access / egress requirements.
The Kliklok BEC control system is Beckhoff AMP. As the system is mounted on-board the machine and does not require a separate electrical panel, air-conditioning is not required.
The Kliklok BEC can fit into many different industries and applications ranging from chilled and frozen, bakery, confectionary, biscuits & crackers, bag in box, bars to other non-food industries. We can also provide loading equipment to collate and stack where necessary.
The standard Kliklok BEC endload cartoner has a 12"/304 mm pitch. Each pocket is 12"/304 mm long, with a usable length allowing for guides of 10.25"/ 260 mm. A size change on the BEC endloader takes approximately 10 minutes. Specifications are shown in the HMI with easy-to-read adjustment points, making accurate and repeatable size changes easy for the operator. The height is adjusted manually, while the width is adjusted within the HMI. Feedback to the HMI is required so that the machine will not start, if it is not in the correct position.
The overhead confiner ensures the product is fully controlled and confined on all sides during the insertion process (application dependent). The confiner is available on the Kliklok BEC endload cartoner as an option.
The BEC endload cartoner handles a wide variety of formats, including gable top formats. Carton sizes range from
min: 50mm length / 25mm width / 110mm depth to
max: 260mm length / 127mm width / 335mm depth
The latest version of our Kliklok BEC endload cartoner now includes the following:
New servo-driven system for greater process stability
HMI 4.0 as an interface to Digital Service Solutions
Space-saving Beckhoff controls and redesigned compact frame
Redesigned Rotary Carton Feeder which is more compact, with high OEE and greater tolerance on board quality and recyclable material content.
Reduced power consumption (was 9 kWh, now 7 kWh)


Why choose a Syntegon endload cartoning machine?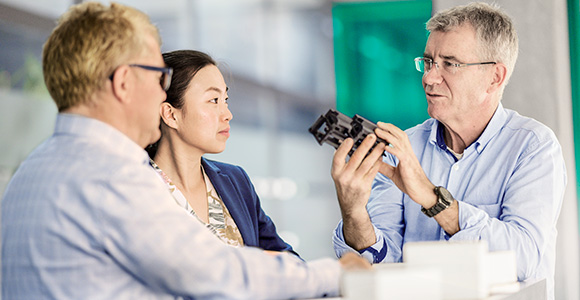 About us
---
Processing and packaging for a better life – this is what our employees work for every day. Looking back on a 160 years of experience, the portfolio of intelligent, innovative and reliable solutions help our customers in the global pharmaceutical and food industries to improve people's life. With 1,100 service experts and a comprehensive service portfolio throughout the entire machine lifecycle from spare parts management to digital line optimization, Syntegon lays the foundation for smooth production processes for all customers.
patents and patent applications
machines installed world-wide
https://www.syntegon.com/hubfs/05_website/Content/1-Solutions/2-Food/02-Technology-pages/04-Cartoning/00-Kliklok-BEC/Interpack_Syntegon_BEC-with-Cobot.pdf|Kliklok_BEC with Cobot Brochure https://www.syntegon.com/hubfs/05_website/Content/1-Solutions/2-Food/02-Technology-pages/04-Cartoning/00-Kliklok-BEC/Kliklok-BEC-Data-sheet.pdf|Kliklok BEC Data Sheet https://www.syntegon.com/hubfs/05_website/Content/1-Solutions/2-Food/02-Technology-pages/04-Cartoning/00-Kliklok-BEC/Interpack_Syntegon_Bakery-System.pdf|Syntegon_Integrated_System
Endload cartoning downloads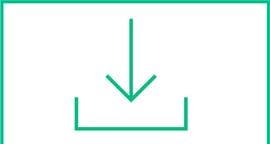 KLIKLOK BEC – New compact endload cartoner
Brochure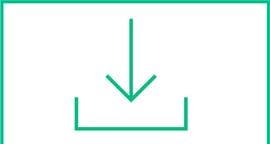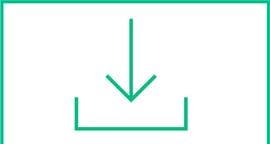 interpack 2023
System solution for bakery products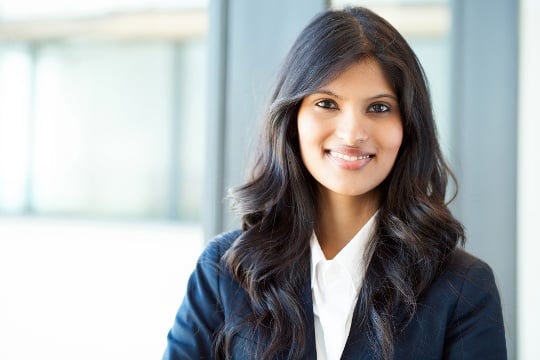 Interested in cartoning machines?
Local Agent
---