The dream of having an easy workday and a lot of flexibility in packaging comes true with the new Elematic 2001 case packer. The new machine comes with a reduced footprint and offers maximum flexibility in terms of pack styles.
Whether full wrap-around, tray with hood, tray without hood or ledge tray – now everything can be packed on just one machine. High performance, small footprint and quick changeover highlight the machine.
Unique solution for all wrap-around case designs
The Elematic 2001 case packer impresses with its flexibility. Just half a year after the start of sales, many machines have already been successfully commissioned by customers and perform their packaging task reliably.
The flexibility of this case packer not only means that all wrap-around pack styles, such as full wrap-around and trays with and without hood, can be packed on one machine, but also that the machine is able to handle different format sizes and packaging designs. "Up to 100 designs and more are possible! We understand the market of shelf-ready packaging and want the machine to be able to pack a wide range of pack styles. Of course, customer requirements for unique packaging designs and format sizes are always individual. We are working closely together with our customers to develop suitable solutions. The primary target is to create an attractive and transport-safe case design as well as the possibility to place it on the shelf in a time-saving and resource-saving manner." explains Bernhard Vaihinger, product manager at Syntegon Technology in Remshalden.
Pack style flexibility: full wrap-around, trays with and without hood – on one machine
Thanks to the innovative machine concept with a standard modular system, it is possible to implement tailored and special case solutions on the Elematic 2001. The proven Elematic click system makes changeovers quick, easy and reliable for perfect results from the first case onwards.
Compared to previous versions, the Elematic 2001 WAH was designed to save valuable floor space. The machine is configurable and covers a performance range from compact, cost-effective basic machines to flexible pack styles and complex high-speed variants with a speed of up to 40 cases per minute; a standard version with a speed of up to 25 packages per minute is also available.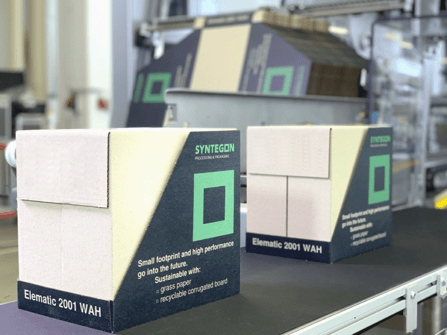 Tray with the hood made of grassfiber based corrugated, packed with the Elematic 2001 WAH
Is the Elematic 2001 an industrial eye-catcher?
The bright green color combined with white design elements suggest that the machine makes a special contribution to sustainability and the environment. True to their mission to offer sustainable solutions for everyone, Syntegon Technology is running corrugated board made from grass paper on this case packer. The machine handles solid and corrugated board of any quality as well as a combination of different packaging materials for trays and hoods.
In addition, Syntegon is working with various packaging material suppliers to test the machine's ability to process sustainable materials – without reducing speed and quality.
In contrast to conventional case packers, which often malfunction when curved blanks have to be packed, the Elematic 2001 can handle deviations of up to 300 percent of the usual tolerance window with the newly developed blank handling. In this way, blanks that previously had to be thrown away can still be used. This not only leads to better use of resources, but also increases the effectiveness of the packaging machine.
Find out more about the Elematic 2001 WAH and visit us on our website: cartoning-casepacking.syntegon.com