Their recognition value is incredible: at every airport, Toblerone's striking packaging lures travellers into duty-free shops. Since its invention in 1909, Toblerone has been produced in the Swiss capital Berne, and nowhere else. Here, 97 percent of all bars are produced and packaged, and then distributed all over the world.
Syntegon Technology, has supported the brand with its comprehensive portfolio of secondary packaging technology since the Berne-Brunnen plant in Switzerland was opened in 1985. The Toblerone plant in Berne proved to be the ideal test environment for the newly developed, standardized Elematic 1001 SL sideload case packer.
Field test partners – searched and found
Toblerone are available in different sizes and flavors, some of which are only available seasonally or special formats for the duty-free market which results in different packaging requirements. When Toblerone started looking for a new case packer for the plant, they turned to their partner Bosch Packaging Technology, now Syntegon. Driven by global market needs, the packaging technology experts were already working intensively on the development of the new Elematic 1001 SL sideload case packer for Regular Slotted Cases and were looking for a field test cooperation partner. As soon as Toblerone heard this, they agreed to put the new machine to the test in December 2016.
Mondelēz plant in Berne, where 97 percent of all bars are produced and packaged, and then distributed all over the world.
"Our decision to test the Elematic 1001 SL is evidence of our confidence in Bosch Packaging. Field trials always involve an element of risk, but after working together for years, we knew we could rely on Bosch Packaging," explains Jürg Adam, engineer at the parent company, Mondelēz International.
Elematic 1001 SL on the test bench
In the summer of 2017, Toblerone examined whether the Elematic 1001 SL could really deliver what the technical brochure promised during demanding continuous multi-shift production tests. The Elematic 1001 SL is designed for the medium output rate. It stands out for its small footprint, easy maintenance and user-friendliness. Thanks to the extended blank magazine and ergonomic prefeeder height, operators have to replenish the blanks less frequently. The Elematic click system enables toolless and fully reproducible format changes within ten minutes. A clearly audible click indicates when the parts have locked in place successfully. This eliminates the need for adjustments. In addition, errors are minimized and planned downtimes are reduced.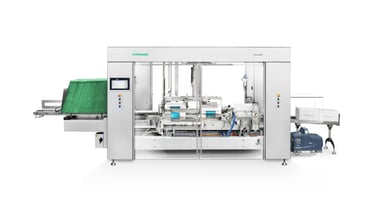 The sideload case packer was integrated into the production line at Toblerone's factory within a few days and put into operation by Bosch Packaging Technology's technicians. Since then, the case packer has been packing individual Toblerone bars and multipacks of Toblerone bars in Regular Slotted Cases, a simple folding carton with top and bottom flaps that meet in the middle.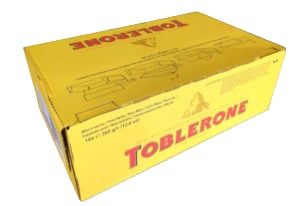 "The Elematic 1001 SL impressed us with its format flexibility and performance: following the pilot project, we ordered a second sideload case packer and two Elematic 2000 WA case packers for full wrap-around cartons," Adam explains.
The large format range offers a high degree of flexibility: the Elematic 1001 SL sideload case packer groups the Toblerone bars or bags into multi-layer rows depending on the desired constellation. These are then loaded laterally into packaging cases made of corrugated or solid board. The Elematic 1001 SL can produce up to 20 cases per minute.
"At our Toblerone plant, we aligned the output rate of the Elematic 1001 SL with the speeds of the preceding primary and secondary packaging machines. The sideload case packer currently produces seven cases per minute. In any case, there is still room for improvement so that we are prepared for future performance increases. We have mastered numerous changes with Bosch at our side and know that we can count on the Elematic machines from Remshalden in the future", Adam summarizes the cooperation.
Click here for more information on the Elematic 1001 SL or contact us directly!