A South American confectionery manufacturer chooses automation and easy operation for its new packaging system Bars – especially health and nut bars – are currently enjoying great popularity with consumers.
Driven by the trend towards a healthy, active lifestyle, this market segment is growing steadily worldwide and is providing confectionery manufacturers with the opportunity to tap into new customer segments. Our South American customer was looking for an efficient packaging solution for its new chocolate-covered nut bar. The aim was to ensure that all system components were perfectly aligned with each other and had a high degree of automation.
The customer's project team contacted Syntegon and decided on a packaging system that would enable them to achieve their growth targets in the bar segment. "We offer our customers complete tailor-made system solutions with a single point of contact and all from one source. Our portfolio includes a comprehensive range of system components. These are engineered and manufactured in our various Syntegon locations. We offer everything from individual machines for start-ups to extremely high-tech, high-performance systems for large corporations with high production volumes. The wide range of possibilities that we can variably combine is one of our major strengths," explains Eduardo Dos Santos, Syntegon Sales Director for Latin America.
Using automation to ensure quality and absorb fluctuations
The customer's new bar product required a fully integrated system consisting of product handling, infeed, primary packaging in a flow wrap and cartoning. Simplicity of operation by as few operators as possible was an important factor in the selection of the new equipment. As in other regions of the world, employee turnover rates are high in South America, resulting in regular personnel changes. As a consequence, it is necessary for new and often unskilled workers to be able to operate the machines quickly and safely. Syntegon offered the customer an efficient and easy-to-operate packaging system with a high degree of automation. The system can flow wrap up to 800 nut bars per minute and carton 12 bars in 66 boxes per minute in two formats. The first carton format involves the bars being inserted into the cartons flat while the second format stacks the products on edge.
A broad portfolio for customized solutions
For product handling, infeed and primary packaging, the decision was made to use equipment from the Syntegon site in the Netherlands. The Pack 403 machine is the perfect flow wrapper for medium film speeds. Not only is it compact, it works reliably and at consistently high quality levels, even in 24-hour operation. The clear and simple user prompts, tool-free format changeovers and automation features, such as the automatic film splicer, were all ideally suited to the needs of the customer.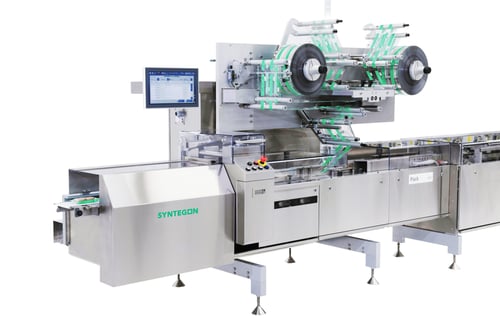 Pack 403 horizontal flow wrapper: easy and reliable to operate
Syntegon also has unique expertise in the infeed process for cartoning. Here, the team drew upon the portfolio of the Swiss Syntegon site. The Sigpack PFI feeding module is based on linear motor technology, making it very compact and unbeatably flexible. This enables the PFI to gently and easily rotate the products by placing the product movers on top of the bars and turning them from lengthwise to crosswise on the low friction plate during onward transport. To change the products from flat to upright, all you need to do is change the product movers. These can be clicked in and out quickly and safely. Because the movers are manufactured using 3D printing, the Sigpack PFI can also be adjusted to new products within a very short time.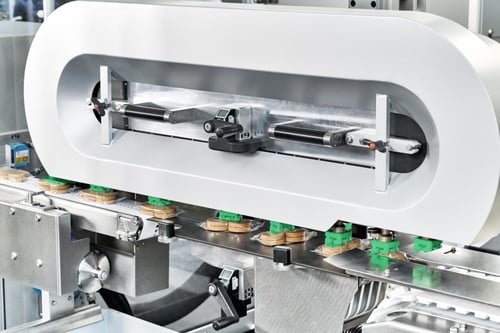 Highly flexible Sigpack PFI feeding module
A Sigpack TTM1 topload cartoner, also from Switzerland, was integrated into the line, too. The TTM1 is characterized by its patented format change concept. This allows carton formats to be reliably and accurately changed very quickly. Operating the machine and changing formats can be carried out by just one person. Vertical restarts guarantee high-quality results from the very first carton onward. There is no additional need for adjustments when starting up new formats, saving not just time but also material.
All system components are optimally harmonized with each other. The uniform operating architecture of the HMIs and the consistent tool-free format changes make it easy for the operator to perform his or her daily tasks efficiently and without errors. Thanks to the high degree of automation, only one operator is required to run the entire system.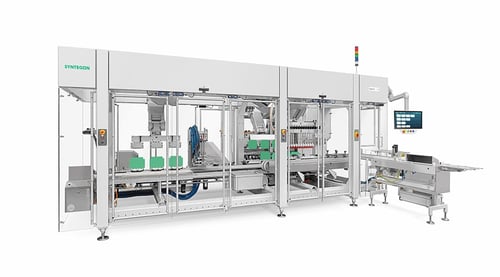 Sigpack TTM1 topload cartoner with patented format change concept
Good advice and local service are essential
Syntegon Technology is a global company. The worldwide service network means that expert regional contacts and technicians are available to customers at all times. The service portfolio is rounded off by a multitude of services, spare parts and training products. The service team provides solutions over the entire life cycle of the machine – right through to modernization.
"As the market leader in bar packaging systems, we can draw on many years of experience. Our bar systems are in operation all over the world and we package a huge variety of different products. Every bar is different and every customer has its own special challenges and plans. The key to success is comprehensive support and advice. We are proud of being able to optimally support and accompany the growth objectives of our customer in South America with our system and service solutions," adds Eduardo Dos Santos.