Hiking the Caminho Português: Hans Barmettler enjoys facing new challenges – both at work and in his free time. In his role as Service Sales Group Leader for food customers in numerous countries all over Europe and South America he has built firm relationships with his customers and knows: to reach your destination, sometimes, a redirection might be required.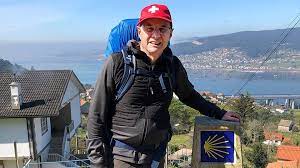 Due to several foreign assignments on the job, today, the Swiss native is fluent in four languages: German, English, Spanish and Portuguese. Since 1982, he traveled to 43 countries, 34 of these for Syntegon. Hans completed an apprenticeship as a machine mechanic, which was followed by an advanced training to become a weaving machine specialist. In 1986, he moved to Venezuela for two years to work for a Swiss industrial engineering and manufacturing firm. Another two years in Brazil were followed by a move to Barcelona, Spain in 1990. Hans would stay here for eight years, still working for the same company.
In 2008, Hans joins Syntegon1 in Beringen, Switzerland, and makes the switch from weaving machines to packaging machines: "It was a challenge. I had built such an extensive knowledge working with weaving machines. My former employer didn't really want to let me go." He laughs. As open-minded as he his, Hans managed to handle the new challenges with eager and curiosity: "I did not see a future for myself in my previous field anymore but change happens all throughout life – so you need to be flexible and able to adapt. It didn't feel great to start anew after being the expert for so long but looking back it was the exact right thing to do."
"Our customers are loyal
and appreciate our support."
Hans Barmettler
In his current position, Hans is responsible for customers in various different locations all over Europe and South America: "Our customers are loyal and appreciate our support. I understand it as an important part of my job to maintain those contacts and to function as a mediator between my customers and the company." Though he is proud to have established friendly relationships with the customers, he enhances: "It is still important to keep up a certain level of mutual respect and to establish trust. This requires consistent support and just being available. A customer needs to know you can be relied on."
In Venezuela, corn flour is the most important basic food. Therefore, Syntegon's machines that package this important good and their regular maintenance are an essential part of the process to feed the country's population of over 28m people. But traveling to Venezuela, a country that has in the past encountered numerous political and civil unrests, is not easy. Yet, Hans' experience and an elaborated company safety concept, allowed him to safely travel to Venezuela in 2019 and to successfully support a Syntegon customer that needed his help. Hans is proud to be part of something that goes far beyond Sales. And rightly so: his job plays an essential part in mediating between cultures and ensuring the food provision of millions of people.
Looking back on almost three decades working in his field, certainly, his job has evolved throughout the years. "The world is constantly changing but change is natural", he believes. Hans has always been very good at adapting to change. In fact, encountering a setback is what motivates him: "Things go wrong. But you need to get over a setback and understand it as a chance to change your path, your direction – in order to come up with a new idea that leads you to your goal." With his lively attitude and his eagerness to finish a job successfully to make both customer and company happy, Hans has established an exciting career path crossed by many people from all over the world that he still considers his good friends.
Not the least his travels have led him to his wife: Hans met Christine at the airport in Frankfurt when both of their flights had been rescheduled. Exchanging contacts, followed by a first lunch date and a few years later, the couple now lives in Switzerland. Together, they have three grown-up children from their first marriages. In his free time, the 62-year old enjoys hiking, skiing and cooking with his family. His philosophy that he has always lived by, both professionally and personally: "There is always a reason why something doesn't go your way – so find another way. I might have to adapt plans, but I never give up."
Even though his career has led him to so many countries and allowed him to travel all throughout South America, Venezuela holds a special place in his heart: "Without a doubt, I love this country and its people. My passion for this culture is something that motivates me every day." Yet, he wouldn't want to settle there permanently – Switzerland remains to feel like home to him. "Paradise doesn't exist", he admits. "The only other country I might consider is Portugal. The climate is perfect and it is where most of our closest friends still live. One of them has a house right by the beach. He visits us and we get to visit him a lot – which is convenient."