After the successful completion of a joint project, advanco IT and Services, Brussels and Syntegon Technology decided to increase cooperation by bringing the standards forward and creating benefits and convenience for serialization and aggregation demands. In the past years, pharmaceutical companies were implementing Track & Trace systems to fulfill regulatory requirements. Now, in the 2nd phase of serialization, it is time for optimizations of the systems.
Syntegon and advanco are both members of the Open-SCS working group, which was initiated in 2014. advanco was one of its founding members and is a steering board member, in order to define, publish and maintain an OPC UA based standard and companion documents for the integration of serialization solutions. The goal of the new cooperation between Syntegon and advanco is to minimize customers' costs for interfaces and to prevent a lock-in effect to a single vendor by not having the possibility to choose different machines from different suppliers.
Syntegon is a leading provider for level 1 – 3 systems. advanco also provides level 3 software for site management. Depending on the existing customer environment, we, Syntegon as well as advanco, offer the software solution that fits the requirements best. The Syntegon CPI solution especially fits production related needs, for example whole line management and single objects data acquisition. advanco is focusing on logistics and warehouse related use cases, for example shipping orders and returning goods management. Customers still get the "one stop shopping" since Syntegon is implementing ARC (advanco´s software) into own machines and offers services for ARC software.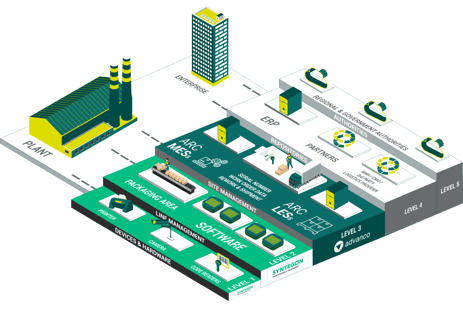 Use case: Serialization and line management by Syntegon Technology, level 3 site management with ARC software from advanco IT and Services.
"Combining the strength of Syntegon as a high end machine builder and the strength of an open and independent level 3 site manager utilizing the standards of Open-SCS brings tremendous value to the customer and lowers the TCO cost significantly"
Alf Goebel, CEO of advanco
Find further information about Track & Trace on our website or connect with our team!