Conservation and climate action are towering global challenges. The World Wide Fund for Nature (WWF) has found global business to be among the most powerful drivers of climate change. Yet a healthy environment and the considerate use of resources are critical to economies and societies' long-term stability.
Syntegon is doing its part to improve lives with sustainable packaging solutions. However, our company also lives up to its responsibilities by mitigating the impact of our business activities. We conserve resources by minimizing energy consumption, emissions, and waste.
Driving down CO2 emissions
Syntegon managed to reduce its carbon emissions by nine percent last year. "We expect the reduction to amount to more than five percent even without considering the positive environmental effect of the coronavirus pandemic," says Heath, Safety and Environment Manager Martin Doelling. Effective measures contributed a great deal to this success. For example, the company replaced fluorescent tubes with energy-efficient, automatically controlled LEDs on shop floors and boosted in-building systems' energy efficiency. This took Syntegon a big step closer to its goal for 2025, which is to slash carbon emissions by a total of 25 percent.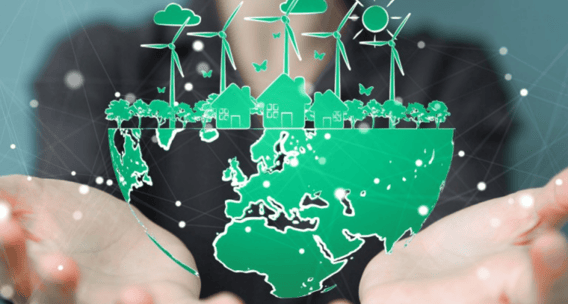 Switching over to renewables
Renewables such as biogas, geothermal energy, and green electricity had accounted for a sizable share – 42 percent – of the energy consumed at Syntegon in 2020. The company aims to go even greener by increasing this share to 48 percent with more heat sourced from renewables. Well over 60 percent of the electricity we consume is already certified green. For our sites in Germany, Switzerland and the Netherlands, we source 100 percent of our electricity from renewable energy sources.
Electricity generated on site using renewable energy sources, especially photovoltaic systems, figures prominently in Syntegon's carbon strategy. Many production sites are planning to install photovoltaic systems with most of the generated electricity to be used on site. "This will improve our carbon footprint and, on top of that, increase the actual share of green electricity," says Martin Doelling.
Waste, a valuable resource
The share of recycled waste increased by nine percent last year. This brings the company-wide recycling rate to 91 percent. The company intends to further increase this share worldwide to maximize the amount of reclaimed materials. "The key is to see waste as a valuable resource and to explore the recovery of every fraction of material," says Martin Doelling.
The company is also reducing the amount of waste worldwide. Some sites have already launched initiatives to do their part. For example, the Crailsheim and Waiblingen sites have phased out plastic cups in offices and on shop floors.