In Japan, some pharmaceutical manufacturers go beyond legal requirements to ensure the safety of their pharmaceuticals – and rely on Syntegon's automatic leak detection machine KHS. By switching from manual to automated Container Closure Integrity Testing (CCIT), they can increase their output significantly.
Container Closure Integrity (CCI) defects are invisible to the human eye but can be hazardous to patients if left undetected. Leaks in otherwise sterile containers can lead to a change in the active pharmaceutical ingredient (API) and have a significant impact on the drug's effectiveness and shelf life. Against this background, one of our Japanese customers decided to implement an additional CCI testing step on top of the Japanese legal requirements to ensure optimal product and patient safety.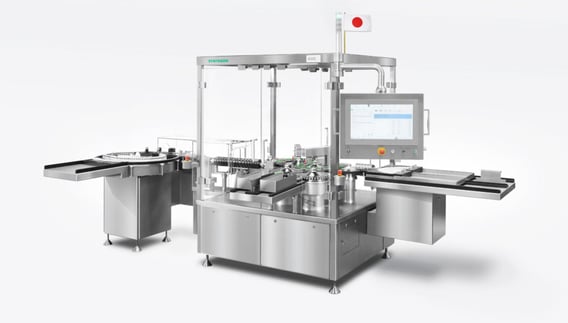 Switching from manual to automated CCIT
Depending on the pre-defined inspection time, the best-in-class KHS 1100 from Syntegon makes it possible to achieve an output of up to 25,800 vials per hour, while maintaining 100 percent reliability. The patented laser-based headspace analysis (HSA) system is sensitive to all leak sizes and reliably detects both temporary and permanent leaks in the vials. The sensors used to measure the physical conditions in the headspace of the vials are continuously recalibrated during production without the need for operator intervention.
Extensive test with placebos
Before installing the machine in Japan, the Syntegon experts conducted extensive tests with liquid placebo products in their test laboratories in Crailsheim, Germany to determine ideal process parameters. Apart from ensuring an efficient interaction between product, process, and primary packaging, they also took existing machinery into consideration. The above mentioned Japanese manufacturer already uses a machine from Syntegon's tried and tested AIM series for visual inspection in its line. Hence it was important to make sure that both solutions work together optimally. Since its installation ten years ago, the AIM7023V reliably inspects crimps, stoppers, heels, as well as sinking and floating particles of O2 sensitive products.
Focus on the Asian market and beyond
Needless to say, this customer is not the first pharmaceutical manufacturer in Asia to rely on Syntegon's testing and inspection expertise. Do you want to find out how our experts can help you optimize your pharmaceutical production in Asia and around the world? Contact us, we are happy to help!
Watch the machine running:
KHS – Laser-based headspace analysis machine for automatic leak detection – YouTube