We've all been made familiar with the drawbacks of the little round milk portion packs at some point during our lives; whether in the canteen, the conference room, or on airplanes.
They fall over easily, often straight off the saucer, and have a tendency to squirt in every direction upon opening. It was these flaws that were the driving force behind the DMK GROUP's decision to create and develop an innovative packaging design that has been successfully implemented – in collaboration with Bosch Packaging Technology.
New design for greater convenience
The cup-fitter, which the company has developed for the MILRAM and Oldenburger brands has been described as an exceptional packaging innovation for coffee cream and condensed milk. The innovative packaging design is characterized by its teardrop curve shape that fits perfectly against the side of a coffee cup. Furthermore, the new shape ensures spill-free opening and non-drip pouring – perfect for a relaxed cup of tea or coffee.
Successful collaboration with Bosch
With more than three decades of successful collaboration experience, DMK once again selected packaging specialist Bosch Packaging Technology to help turn this ambitious project into reality. After DMK had approached Bosch with a sketch of the initial design and strict guidelines regarding material consumption, the machine manufacturer tested the project on its own machines. Finally, the thermoforming machine TFA 2520 whose forming tool can be individually adapted to the requirements of the cup-fitter, was selected.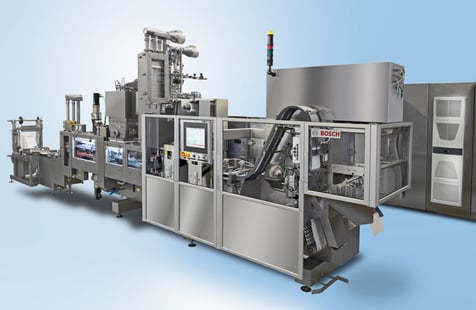 TFA 2520
Sterile packaging thanks to special aseptic technology
The thermoforming machine in use was developed by Bosch to package liquid and viscous products, such as coffee creamers, aseptically in thermoformed cups. The special aseptic technology ensures a long shelf-life for foods without any need for cost-intensive post-sterilization, cooling or the addition of preservatives. "The quality of the machine was very important to us. If we have a non-sterile cup in every box and receive complaints, it has a very negative effect on our business. Therefore, safety is our first priority," says Sönke Ingwersen, Production Manager of DMK. "The foil we now use is practically germ-free, thanks to the applied sterilization process. Out of 100 000 product cups, we know that there won't be a single one that isn't sterile."