Engineering is the most male-dominated field in STEM [1]. With women making up only 13% of the engineering workforce, it might just be the most male-dominated profession in the United States [2]. Also in the area of field service, female technicians are rare: Julia Kim is one of the few who make for the 13% in her field and enjoys being on the road for Syntegon.
Surrounded mostly by male students seeking the Electrical Engineering degree at Florida State University, it came as little surprise for Julia to be the only female when she joined Syntegon's North American Field Service team with headquarters in Raleigh, North Carolina (PAUR) in 2016.
Still, she does not believe that the gender imbalance in field service engineering is necessarily based on the profession itself but rather found in a lot of traveling: "In general, I think it's a bit hard for a lot of people to see themselves traveling so much. For females, this might be one of the bigger issues – having to be "on the road" all of the time – often by themselves."
For Julia, this has never been an issue. Mainly working on bigger projects that demand several technicians on site, usually, there will be other coworkers around: "From the beginning, I really had great colleagues at Syntegon who took time to explain the processes and machines to me which was great." Julia also enjoys the traveling aspect: "I don't like being in one place permanently. I enjoy different places – that way, I can have different interactions, experience new situations and different challenges. I just like the variety this job offers."
The Road Not Taken
Julia while she lived in the UK, sightseeing and exploring with her sister.
Julia surely took the road less traveled by, which led her to fulfillment both professionally and personally: Born in Panama to Korean parents, Julia is trilingual, fluently speaking English, Spanish as well as Korean. She tried to learn German, too, but thought it was "a little bit tricky" for which she surely can't be blamed. However, working on a bigger customer project in Canada, she remembers there was a bar where she and her coworkers from Beringen, Switzerland, really enjoyed getting "a nice Feierabend-Beer." [3]
Julia did learn the important German terms after all…
In 2018 she moved to Europe for a year to qualify for a different type of US work visa. She continued to work for Syntegon as a service technician but was now based at the service hub in the UK. Being the globetrotter she is, she remembers the hardest part about this was just cars "driving on the wrong side of the road."
Currently, the 29-year old lives in Tampa, Florida, with her fiancé Matias whom she met working together on a project in Mexico. Even though most of her family still lives in Panama, Julia does not see herself moving back there anytime soon: "I really plan to do this job for more years to come. I like the traveling aspect and facing all kinds of challenges. I can't see myself in a different type of field."
Turning Your Features Into Your Best Assets
Even after almost four years in the job, it is nothing unusual for Julia to arrive at a customer's site and look into a surprised face. Despite she has never had serious issues on site due to her gender, she still feels like she has always had to work just that little bit harder to proof herself. Her advice to females striving for a career in a similarly "men-heavy" field: "You have to be comfortable with being out of your comfort zone. It might be scary in the beginning but you don't have to be afraid. Just put in the effort and you will be able to make it."
Following her very own career path, Julia is guided by something that Eleanor Roosevelt, former First Lady of the United States, has once said:
"Do what you feel in your heart to be right- for you'll be criticized anyway.
You'll be damned if you do, and damned if you don't."
Julia and the career she has established are a fantastic example that if you learn to turn your unique abilities into your greatest professional assets, it may very well be an advantage not to fit the common frame. If you work hard, go after what you want and don't settle for less – that is what people will remember you for.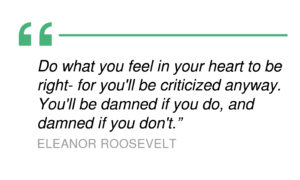 After all, it is said that women tend to be more
detail-orientated, diligent and patient – important qualities which pretty much predestine them to work with those highly technical, well thought out packaging machines.
What James Brown knew back in the 60's remains to be true today:
It's a man's world –
But it would be nothing, nothing without a woman or a girl.
___________________________________________________________________________
[1] Acronym for the academic disciplines science, technology, engineering and mathematics.
[2] See: Silbey, Susan: Why Do So Many Women Who Study Engineering Leave the Field? Harvard Business Review. 2016.
[3] Feierabend: German term combining Feier (party) and Abend (evening). Used to describe the long longed-for end of a workday.