"Processing and packaging for a better life" – Especially in the current situation, we´re keeping up with our mission. The Covid-19 pandemic is challenging manufacturers of medicines: They have to respond fast to changing demands and supply key medicines across borders. Simultaneously, the preparation for new vaccines and therapeutics is ongoing.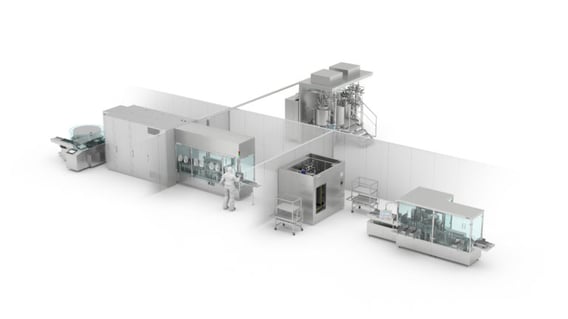 Pharmaceutical filling line with inspection machine AIM3
Different countries have started to approve the use of mRNA based COVID-19 vaccines. Like for all other injectable medications, visual inspection of these vaccines is mandatory. It is a key quality safeguard for pharmaceuticals and contributes significantly to patient safety.
Within the last months, we installed our inspection machines around the globe to guarantee consistent product quality and support higher output rates. The supplied equipment includes high-speed automatic inspection machines for visual inspection and container closure integrity testing. We also inspect active ingredients for corona test therapies in the EU.
We are proud to support the fight against Covid-19 together with our partners, some of the biggest contract manufacturers and multinational pharma companies worldwide: