Pharmaceutical powders form the basis for many antibiotics that are essential for comprehensive medical care. In this interview, Markus Heinz, product manager at Syntegon, explains which changes are currently taking place in the market and which challenges antibiotic manufacturers are facing in powder filling.
How has the market for antibiotics changed?
Markus Heinz: Demand continues unabated even during the pandemic. Antibiotics are a proven therapeutic approach for many common diseases such as pneumonia or tonsillitis. However, margins on generic drugs such as cephalosporins or penicillin are very low, which is why most production capacity has been outsourced to lower-cost markets such as Asia. In fact, as far as I know, there are only few producers or filling plants left in Western Europe – and only one production site for antibiotics, which manufactures and packages Active Pharmaceutical Ingredients (API). However, the pandemic has shown us that bottlenecks in supply chains can lead to undesirable scarcities on the market. Hence it is all the more important to spread production expertise across all regions again.
Why is it so expensive to produce antibiotics?
This is mainly due to the very complex production process. In hospitals, antibiotics are administered parenterally, i.e., by infusion. However, these liquid infusions are produced as powders, which require many protective measures. To protect machine operators from the partly toxic ingredients and to prevent cross-contamination, we need dust-tight barriers and a sealed air supply with efficient filter systems in the filling area. Cleaning is also particularly complex for powders. For example, we are the only supplier to integrate CIP-SIP standards for cleaning the product infeed system in our Syntegon machines.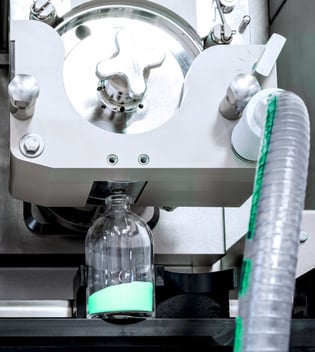 What solutions do you offer your customers?
With around 230 machines in use worldwide, we have been supporting our customers in filling pharmaceutical powders for more than 60 years. The AFG filling and closing machines are particularly popular. For example, the AFG 5000 processes up to 480 vials per minute with 100% in-process control. To make this possible we developed a unique transport system that safely alternates between continuous and intermittent transport mode. Thanks to the modular design of the AFG 5000, customers can flexibly choose between different filling and weighing modules. This keeps the filling area as small as possible and reduces the costs for filtration and protective enclosures. Maybe this is an incentive for manufacturers to invest in the local production of antibiotics again…
How do you want to convince your customers?
Ultimately, customers will decide for themselves. But we can offer them the right machine concept. And we are happy to pass on our extensive experience, for example in our powder laboratory in Crailsheim, where we determine the optimal setting parameters and format parts together with our customers. Of course, we also have the right infrastructure for liquid pharmaceuticals and solid oral dosage forms in the new OSD Customer Center in Waiblingen. In any case, I will be very happy to answer any questions you might have!