Fluid bed processing has long been used in the Pharmaceutical, Nutraceutical, and Chemical industries as a way to enhance the characteristics of powders, dry products, or apply an active compound or functional coating to the surface of particles or beads, with the objective of controlling release of the product.
Syntegon manufacturers a complete line of fluid-bed granulators, dryers, and coaters for R&D and production applications. Every fluid-bed within the Syntegon portfolio is designed and engineered in our Huettlin facility in Schopfheim, Germany, and offers our industry-leading, patented three-component bottom-spray nozzles and Diskjet air distribution-plate technology. Specifically in this article, we are going to take a quick look at how Huettlin fluid-beds maintain the highest quality and lowest process times for pellet coating applications. In addition, you will see how the Huettlin bottom-spray technology overcomes the nearly 70 year-old challenges associated with traditional Wurster fluid-bed coating processes for pellet coating.
Huettlin fluid-beds come with multiple arrangements of three-component nozzles, which are located directly inside the Diskjet air distribution plate at the base of the fluid bed bowl. As the inlet air flows through the Diskjet bottom plate, the three-component spray nozzles spray in the same direction as the airflow, and thus the product, producing the highest spray rates available in the industry. The spray zones are protected by an air shield, called a Microclimate, so there is no need for inserts that could result in spray losses during operation. Spraying in the same direction as the airflow also results in little to no build-up on the nozzles themselves during operation, as well as more consistent content uniformity, faster spray rates, less agglomeration and an increased yield. In the picture below, you can see the placement of the three-component nozzles within the Diskjet air distribution plate on the Solidlab 2 fluid-bed, as well as an overview of our patented three-component nozzle.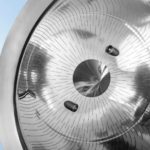 Diskjet air distribution plate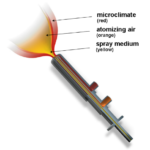 Three-component bottom-spray nozzle
Huettlin bottom-spray technology can handle much larger weight gains (up to 400%) than traditional Wurster pellet coating processes, which correlates to lower process times through the elimination of the typical stopping and re-starting associated with split batches. Coupled with faster process times (up to 50%), the more robust pellets created with Huettlin bottom spray technology offer high coating homogeneity and tight weight distribution of pellets.
Process transfer from Wurster coating applications to bottom spray is made simple by proving that Critical Quality Attributes (CQA) can be maintained after the change. In addition, process development of new products is easier when following Quality by Design (QbD) principles, due to a reduced number of process variables. Scale-up is also accurate, quick and intuitive with Syntegon equipment, thanks to our NexStep software.
Pellet coating is one of the many ways Syntegon can help to drastically reduce costs and achieve improved quality in your current fluid-bed coating process. Huettlin technology addresses a number of the challenges associated with Wurster coating systems in an easy-to-use fluid bed system. Check out our product page here to see our full fluid-bed portfolio. We look forward to the opportunity to prove that our technology can improve your process times and quality!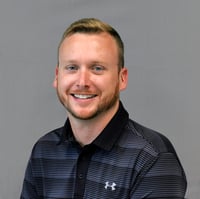 Kevin Dudziak is Syntegon's North American Business Development Manager for our Hüttlin product line.