Vancouver: Canada's "Hollywood of the North". Located right by the Pacific Ocean, the Canadian city is consistently ranked amongst the top five worldwide cities for livability and quality of life and, with a population of roughly 2.7 million, makes for the largest city in British Columbia.When Marco Probst finishes his industrial mechanic apprenticeship in 2010 in Germany, he doesn't know Vancouver would become his future home and that his career would have him travel all over North America. About a life across the big pond and future plans.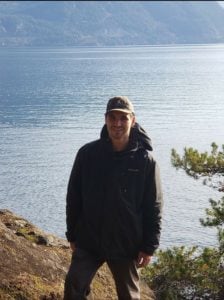 Marco in his hometown Squamish, near Vancouver.
Marco Probst starts his job with Syntegon in Beringen, Switzerland, back in 2012 – initially working in machine assembly and installation. "I began my training in pre-assembly where all the single parts of a machine are put together", he remembers. "After two or three months, I moved on to system assembly which is where all major components of a machine are put together for commissioning. I stayed in that department for about a year." Soon he gets to travel to different customer locations. Joining other more experienced technicians, he quickly figures out how to set out for successful ramp-up and commissioning of a new machine.
Across the pond
At this time, Marco commutes between Germany and Switzerland for work but already travels to the US and Canada quite often to visit customers on-site. In 2016, he switches from machine assembly to After-Sales Services and, in the same year, decides to relocate from Germany all the way to Vancouver, Canada. The polarizing city that attracts approximately 15 million tourists every year and charms with its moderate climate and mild winters, had already left a lasting impression with Marco in the past: Not only through service visits but also during a one-year stay abroad upon finishing his apprenticeship. "Switching to the service hub in North America and moving to Canada happened at my own request", Marco remembers. "Syntegonwas very flexible and helpful – and our Service teams always benefit from technicians that bring knowledge and experience with our own machines." Marco's then girlfriend, now wife, is Canadian. They have now lived in Vancouver for more than four years.
First in Flight
Working for the North American service team, Marco's field service visits are now coordinated and scheduled through the American service hub (PAUR) in Raleigh, North Carolina. Other technicians on his team are spread all over Canada, the US and Mexico. "Our field service coordinator processes customer requests and schedules a technician from our team" he explains. "Before I visit a customer on-site, I will receive a workbook including all information about the customer's location, the issue and needed services. I can then go ahead and book the flights by myself which allows a lot of flexibility."
Even though all of Marco's service visits are coordinated through the Raleigh office and he gets to visit every so often, unexpectedly, he is not a confirmed North Carolina enthusiast: "I just like traveling Canada the most."
Well, to each their own…
One thing that Marco and the U.S. state North Carolina do have in common though: The passion to fly. [1] In his free time, Marco works on the construction of his very own airplane, more specifically, a seaplane. "I like to hunt and to go fishing and camping – with your own little aircraft that is just so much easier." A year from now, Marco's creation is supposed to be all ready to go. And though he does not plan to travel to customers sites with it, yet, it is an amusing thought.
Marco works on his own seaplane. A year from now, it is supposed to be ready to conquer both air and water.
Traveling with Spare Parts
Every now and then, Marco still attends trainings or workshops in Europe. "If I work for a customer this will usually be somewhere in North America though. I have also spent a couple of months working on a bigger project in Australia." Any incidents so far? "Well, I once got stuck at customs for four hours in Beringen", he recalls. "I was supposed to bring spare parts to a customer. I did have all the needed paper work but one of the officers still stopped me." Thankfully, all turned out well and after a few unplanned hours at the forwarding agent's office, Marco made it to the customer safe and sound – with spare parts.
"For me, this job means freedom"
Marco and his wife have two kids – a three-year-old son and a one-year-old daughter. Despite traveling a lot, Marco's job as a service technician allows him to combine both family life and his career. "Mostly, in Service, you will have the weekends off. During the week, you travel approximately 70% of the time and get to spend the rest at home. Obviously, that always depends and varies a little bit."
One of the things the 31-year-old likes most about his job is the variety of both the places he gets to visit and the tasks that he is given. With some customers, he will even go golfing or fishing after work, depending on location and duration of his visits on-site. At this point, it is hard for him to imagine a classic nine-to-five job: "For me, this jobs means freedom."
Marco's home is and shall remain Vancouver: "I am staying in Canada for now – my wife is Canadian, so are my kids. The only thing I could imagine is going back to Beringen – but only for a little bit."
And in case Marco ever changes his mind, fortunately, he already has his own airplane.
What Marco's airplane is supposed to look like once it is done.
[1] North Carolina is recognized for the first powered flight by an airplane which is the reason for its motto "First in Flight" which can be found on most cars' license plates in the State.