How does quality assurance for syringes work?

Inspection of different container types can be a challenge – but any problem can be solved with the right know-how and technology.

Over the last six months, we have received several orders related to fully automated inspection of syringes from pharmaceutical companies in the USA and Japan. Syntegon´s expertise and major software innovations bring huge advantages to visual inspection. Especially the application of Artificial Intelligence has been one of the main drivers for our customers to go with us. The use of deep learning algorithms for e. g. high-viscous products in syringes enables highest performance and inspection results.
Given the complexity of container assembly, the inspection of syringes is an equally complex process. To ensure a high-quality inspection, the use of different technologies like Syntegon´s original Static Division (SD) Technology and appropriate camera methods, is purposeful. The graphic below shows typical inspection items of syringes.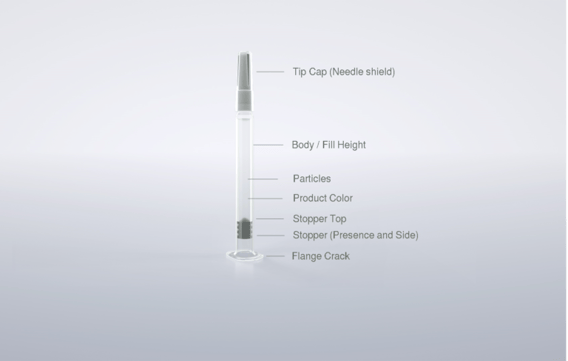 The inspection process
Syringes are smoothly fed into the infeed table of the inspection machine, with containers being inspected and immediately rejected when defective. These defects are focused on:
– Cracks in flanges
– Missing stopper in syringes
– Tip caps (needle shield) bent or in the wrong position
Syringes are turned upside down and gently fed into a pre-spin turret for bubble reduction and product homogenization. Also, product color is checked on pre-spin turret. Containers are then transported to the next stations and inspected for the following features:
– Stopper side: Liquid penetration, stopper orientation (incl. when upside down), presence of particles
– Body and filling level: Cracks/scratches in sidewall, presence of the filling liquid and its height
– Stopper top: Sunk particles (glass), shape of the stopper top (incl. hole)
– Presence of particles in the liquid using light-transmission based SD-Technology
Within the inspection turrets, syringes are rotated to stir up any existing particles using a "direct-spin system". The direct-spin system, powered by individual servo motors, enables flexible adjustment of spin direction and spin speed to meet the handling needs of various products.
Syringes are turned upside down once more through an inverting screw. Defective items are then removed to reject trays, accepted syringes are transferred to downstream machines.
Thanks to our unique puck transportation system, containers are conveyed without friction throughout the whole inspection process.
If you would like to get more information about the inspection of syringes – or any other container or product – feel free to contact us. We will be happy to support you anytime.