Continuous Manufacturing has steadily gained momentum within the Oral Solid Dosage (OSD) industry over the last handful of years. Seeking significantly faster product development, reduced production costs, and higher yields, many pharmaceutical companies have made a concerted effort to implement continuous manufacturing lines within their production facilities. Continuous Manufacturing can allow inefficient batch processing to be a relic of the past, being replaced with smart sensing technology and unsurpassed product quality.
With all of the production and cost benefits of implementing a Continuous Manufacturing line, what often makes the most impactful difference is how well sensing technology has been integrated within the equipment itself. Continuous lines can be extremely finicky with traceability, cleanability, and product transfer. Safe processing and transporting of raw powder and granulates within a continuous line ensures outstanding flow and tableting characteristics, but this can be very difficult with twin screw granulators and improper sensing technology. Syntegon has addressed and tackled these production and automation challenges with both an R&D and Production Continuous Manufacturing platform we call, Xelum.
Syntegon is the only OSD equipment manufacturer offering a unique and proven technology within our Xelum line which addresses several pervasive issues often experienced with twin screw granulators. The Xelum line uniquely incorporates our robust and time-proven fluid bed technology, which means granulating and drying take place in the same chamber. This allows for higher system reliability and reduced complexity by eliminating the need to transfer wet granules to a separate drying chamber. The fluid bed processors within the Xelum line utilize the same Syntegon technology found in our standalone units, which offer superior granule characteristics. In addition, Xelum utilizes our "X-key principle," processing your product as individual and fully traceable packages throughout the production process. These X-key's are continuously run through the process chain and then removed successively from the machine as discrete packages into bins.
If we take a look at the Syntegon Xelum R&D platform, we can easily see that the same basic principles are being utilized as on the full Xelum continuous production line. Both platforms utilize fluid bed processing for granulating and drying, with no wet product being transferred at any time during the production process. The R&D line offers shorter cycle times, lower production costs, and superior flexibility due to the production steps taking place one after the other and without interruption. Formulations with less than 1% API can be processed in the Xelum R&D platform, with full traceability within a closed process (bin-to-bin). Then, simply transfer your manufacturing process 1:1 to the full production unit, with all relevant process parameters being continuously recorded and supported by Design of Experiment (DOE) software.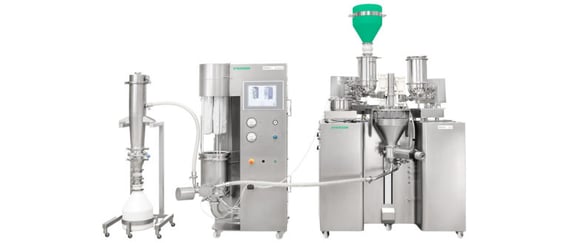 Xelum R&D line
Syntegon's full Xelum production line is the fastest way from batch production to continuous manufacturing. The Xelum line allows dosing, blending, granulating, tableting, and coating to occur in a seamless and fully traceable production process. Much like the R&D line, the full production Xelum line offers precise dosing of the smallest amount of API in a simple and efficient process. Without scale-up issues, production can be directly transferred from an R&D platform to the production line while maintaining fully-integrated traceability. The fluid bed processors in the production unit offer the best flow and tableting characteristics, due to not having wet granules transported within the system. This also allows for an extremely easy to clean system, with strategically placed WIP (Wash-in-Place) nozzles throughout the unit.
Syntegon has been developing cutting-edge fluid-bed equipment for well over 30 years. The experience garnered over those years has led to the most innovative and technologically advanced continuous manufacturing line offered today. Our Xelum line is a completely new and unmatched continuous process, and we would appreciate an opportunity to advise and support your venture into continuous manufacturing.
Visit our product page today to learn more about our Xelum continuous product lines.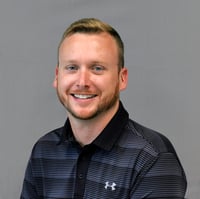 Kevin Dudziak is Syntegon's North American Business Development Manager for our Hüttlin product line.