Interview with Heike, Ph.D. student in the field of research and advance development sustainability.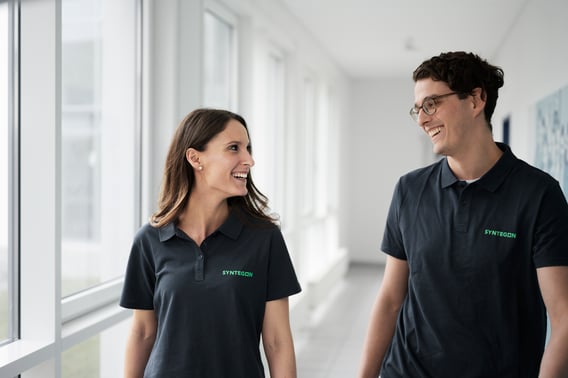 Why did you decide to do a doctorate and why in connection with an industrial company?

After my master's thesis, I was fed up with academic work at first. Once I started working, everything revolved around speed and efficiency. That was fine, but there was ultimately no time to dig deeper into the "why". How does something work in detail? Why does it work or not? I missed having the opportunity to delve deeper into a topic. Doing my doctorate exclusively at a university would not have been an option for me. It is very important to me to look at industry-related and industry-relevant topics that can be implemented in the real world with the help of my work.
How is the Ph.D. program structured at Syntegon?

The Ph.D. program is designed to take three years. The topic is either already linked to a Ph.D. supervisor or you work with your own supervisor. Within the three years, you have the opportunity to get to know your field intensively, to dive into the details and to collect scientific data. I see major advantages in being able to exchange notes with my various colleagues on site, who possess an unbelievable wealth of knowledge and are experts in their fields. In addition to this knowledge pool, I have access to various literature databases for my work. The three years form the core of my dissertation and may also be my ticket to an exciting position in the company.
What is the coolest thing about the program?

It is incredibly valuable to have so much freedom to try out your own ideas. Plus, it's not a disaster if you do research on something and ultimately find out that it doesn't work the way you thought it did. That's also part of research!

Having this opportunity to work as a Ph.D. student at Syntegon is a great motivation for me and makes me proud.
---
Learn more about our Industry Ph.D. / Dissertation program
Have we caught your interest and you would like to learn more about our Industry Ph.D. / Dissertation program?
You can find more information here.
---