Digitization is a process, which affects us all. The right software solution can help companies create a measurable optimization for their production.
Manage your whole line from one single point
Snytegon´s Line Management software gives you the possibility to manage a whole line from a single point. This results in a reduction of potential causes of errors and operation cost savings, for example for line setup or automatic collection of all reports, counters and events. Additionally, the Line Manager software tracks and visualizes the line OEE in real time and generates seamless line reports for quality management and other purposes. Everything is based on OPC UA and can be integrated easily in every line setup.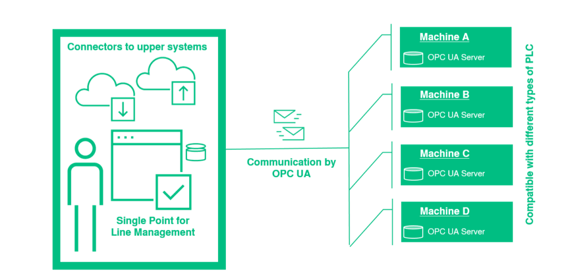 Possible Architecture of Syntegon´s Line Manager software
All required batch related data and format information are uploaded by to several vendor independent machines before a batch starts. The download of all required data from upper systems is integrated. Moreover, the Line Manager collects production data like status, alarms and counters from OPC server of the machines while batch is running. The functionalities can be adapted and expanded if required. To ensure a fast and cost effective implementation, Syntegon is offering a so-called Line Manager Starter Suite.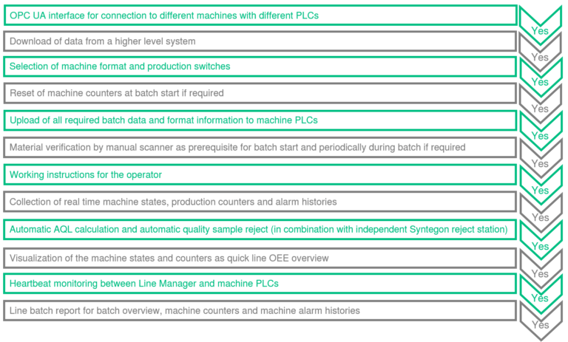 Overview of Line Manager Starter Suite Functionalities
The Line Manager Starter Suite is no full SCADA system but a scalable solution that can be expanded with several functionalities of SCADA systems. With the Line Manager Starter Suite, Sntegon offers a smart software to reduce costs with a step by step approach to meet all requirements of different customers with different line set-ups.

Line Manager benefits
Don´t hesitate to contact us to receive further information!