Developing a pharmaceutical product within a Research and Development Lab can be a very expensive and time-consuming process for OSD manufacturers. Once a stable product has been developed within the lab setting, scaling up to pilot production can prove even more daunting for scientists. Pilot-scale machines provide pharmaceutical companies the tools to better understand a manufacturing process that was successful at lab scale, while also allowing for batches at less than production scale, where design changes can still be easily executed at less cost.
Syntegon offers a unique and easy scale-up solution from our R&D line of fluid-bed and high-shear mixers into our pilot scale Pilotlab and Pilotmix machines, which is what we will be focusing on in this article. Both our Pilotlab and Pilotmix units can seamlessly offer small-scale production capabilities or act as an intermediate step from the lab to production. Let's take a brief look at what makes Syntegon's Hüttlin technology so unique in our pilot scale fluid bed and high-shear mixer.
High Shear Granulation
Ranging in batch sizes from 3.5-60kg, the Pilotmix high-shear mixer and granulator is aptly sized for increasing your lab scale batches to pilot scale production batches. The Hüttlin Pilotmix is available in 4 different bowl sizes: 25, 75, 100, and 150 liters, with the versatility to be utilized as a standalone high-shear mixer or in-line with our Pilotlab fluid bed. The Pilotmix can also be configured as a single-pot mixer with customizable options such as vacuum drying and a solvent recovery system. The Pilotmix is also designed with customized containment options available for properly handling and mixing highly potent API's. With a vacuum system for charging, metal filtration for easy cleaning, a purged sealing system for the agitator and chopper, and Provicon HMI control system all standard with the Pilotmix high-shear mixer, scaling up into a design and production phase has never been easier than with Syntegon's Pilotmix.
Syntegon's Pilotmix high-shear mixer also comes standard with our patented Gentlewing impellor technology that was designed and perfected by our Hüttlin Engineers. The Gentlewing blade allows for minimal product adhesion to the walls of the bowl, along with producing a much more homogeneous distribution of the active ingredient. This uniform distribution is key for ensuring content uniformity of low content active ingredients batch after batch. Another very unique attribute to our Gentlewing technology is the dramatic increase in yields achieved through the scraping of the bowl. The tight tolerance of the blade to the bowl, removes the need for manual intervention to discharge the bowl. Gentlewing technology allows for 20-80% of the bowl to be usable for your mixing application, with consistently high yields and removing the need for manual scraping of the bowl walls once your batch is completed.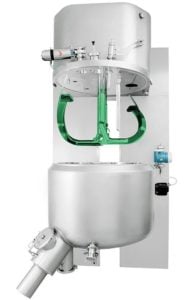 Pilotmix high shear mixer
Fluid Bed Technology
The ability to scale up from lab-scale batch sizes into a pilot or production batch with a fluid bed is often considered very difficult and costly. With Syntegon's Hüttlin bottom-spray technology, scale up from R&D into pilot production is nearly a seamless process. The Pilotlab fluid bed is equipped with Hüttlin's patented three-component nozzles located directly inside the Diskjet air distribution plate at the base of the fluid bed bowl. As the inlet air flows through the Diskjet bottom plate, the three-component spray nozzles spray in the same direction as the airflow, and thus the product flow, producing the highest spray rates available in the industry. The Syntegon Pilotlab is a fully production-capable fluid bed capable of drying, granulating, and coating in batch sizes from 4 to 50kg. The Pilotlab can be operated as a fully standalone unit or utilized in-line with our Pilotmix high-shear mixer.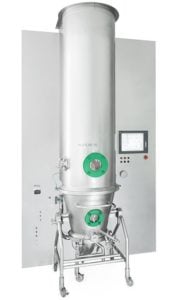 Pilotlab fluid bed
Syntegon has been developing cutting-edge fluid bed and high-shear mixing equipment for well over 30 years with our Hüttlin team of experts. The revolutionary design of our fluid beds produces the most technologically advanced and efficient fluid-bed processes in the industry. The Gentlewing impellor technology of our high shear mixer offers the highest yields and the easiest cleaning process currently available in our industry as well. We would appreciate the opportunity to help improve your granulation, mixing, and drying processes as you move into pilot-scale production. Please click the links below for more information on our Pilotmix and Pilotlab.