From fruit, vegetables and potato products to fish and meat – more and more food products are available to consumers as frozen meals. The most common packaging material for these is plastic. But similar to other sectors of the food industry, consumers are looking for more sustainable alternatives. Therefore, frozen food producers and machine manufacturers are collaborating to reduce the consumption of packaging materials, use more recyclable materials, or even completely replace plastic packaging.
The requirements for frozen packaging are generally lower because the freezing process effectively preserves the products. While fresh products often require multilayer packaging, a low oxygen and water barrier is sufficient for frozen packaging to protect the product against freezer burn or loss of flavor. At the same time, there are frozen foods that have special requirements because of their texture: For example, the packaging must meet certain mechanical and physical requirements, such as high puncture resistance, to make sure the film does not tear, even with frozen products that have sharp edges. Therefore, films made of polyolefin mono-material are often used to package frozen products – pillow bags made of LDPE (low-density polyethylene) are particularly popular.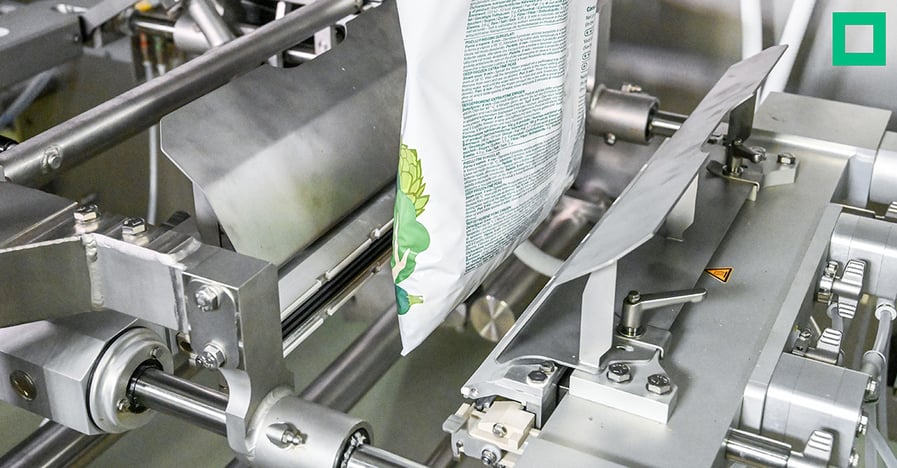 To reliably process more sustainable films while simultaneously increasing the speed of their line by up to 25 percent, Syntegon offers customers a retrofit kit for their existing vertical lines.


Equal protection, less material consumption
Although packaging made from LDPE can be recycled well, there is a material that offers an additional, considerable benefit: films made from BOPE (bi-axially oriented polyethylene) are only 20 micrometers thin and thus significantly reduce the amount of packaging waste. Based on extensive machine tests with various film materials and manufacturers, Syntegon developed the PHS 2.0 sealing system for vertical packaging machines back in 2020. The system processes thinner films at higher speeds. Thus, manufacturers save between 35 and 50 percent of material compared to LDPE films and can substantially improve the carbon footprint of their frozen food packaging.
Besides this material-saving and recyclable solution, Syntegon is focusing on paper packaging for frozen foods to replace conventional plastic packaging. The SVE 2520 vertical form, fill and seal machine, for instance, reliably processes paper-based materials into pillow bags for frozen food.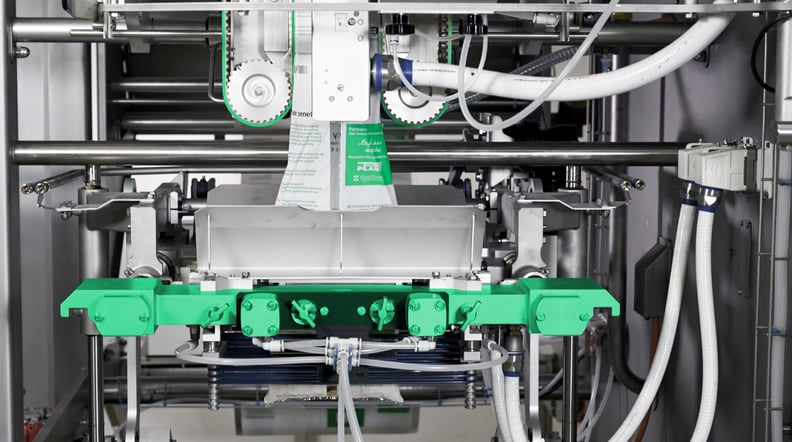 Syntegon's innovative PHS 2.0 sealing system for vertical form, fill and seal machines is able to process SABIC's BOPE film, which is only 20 micrometers thin.
Made-to-measure sustainability thanks to long-standing expertise
An increasing number of manufacturers from the frozen food industry are switching to sustainable materials. Syntegon helps them integrate future-proof solutions into their production processes: "Together with frozen food manufacturers, we perform material and machine tests to identify the ideal parameters for both the product and the equipment. This allows us to customize our recommendations for alternative materials and leverage our many years of experience to support customers in adapting their equipment," explains Torsten Sauer, Project Manager Sustainability at Syntegon.
If you want to learn more about sustainable packaging solutions for frozen food, do not hesitate to contact us. We are looking forward to your inquiry!
Data Sheets:
BOPE material for PHS 2.0 sealing system
Retrofit Sealing jaw technology (PHS 2.0)