World premiere: Syntegon DCG discharge station for gentle handling

New grouping and loading function of the Syntegon RPP robotics platform

New Technologies for proven Kliklok BEC endload cartoner

Elematic 1001 TL case packer saves up to 40 percent of glue thanks to precise dot application
Beringen, March 28, 2023. At interpack, Syntegon is presenting a flexible line concept for packaging sensitive baked goods – from product distribution to case packaging. The seamlessly integrated packaging system is equipped with numerous technological innovations: "Manufacturers looking for an efficient solution in the medium output segment will find from Syntegon fully automated lines from a single source – including gentle handling, sustainable primary packaging and high format flexibility for different products", says Stefan Schulze, Product Manager at Syntegon.
Product distribution: gentle handling as a priority
The Syntegon DCG (Distribution Continous Gentle) distribution station is making its debut at interpack. The new station continuously discharges 400 sliced cakes onto the downstream packaging leg at 18 cycles per minute. Using the pullnose method, the DCG discharge belt lowers and deposits the cakes gently and in a controlled manner onto the downstream cross belt. Thanks to its gentle handling, the distribution station is ideally suited for delicate baked goods or sticky bar products. "When we were developing the Syntegon DCG, we placed particular emphasis on flexibility and hygiene. Depending on production requirements and layout options, different modules can be easily combined with each other. In addition, the distribution station's open design makes it easily accessible. Sloped surfaces help catch product residue and keep the production environment clean," explains Stefan Schulze.
Primary packaging: reliable, flexible and versatile
Once the sliced cakes have been discharged onto the packaging leg, the FIT inline module continuously feeds them to the flow wrapping machine while preventing products from accumulating along the way. Linear motors ensure gentle handling of the sensitive products. Each mover can be controlled and only accelerates when the product has been safely captured. This means that the individual sliced cakes do not come into contact with each other, which in turn reduces mechanical stress. In addition to gentle handling, the FIT impresses with its high flexibility: Operators can switch between different formats at the push of a button via the HMI.
The sliced cakes are then packed by the robust and reliable Pack 403 flow wrapping machine. Thanks to fast and tool-free format changes, it is suitable for a wide range of products. At interpack, the Pack 403 will pack up to 400 cakes per minute in gusseted flow wraps. The recyclable mono material film will be heat-sealed.
Product handling: additional function completes Syntegon robotics platform
The subsequent robotic pick-and-place platform RPP ensures a high degree of flexibility. The modular plattform has been tried-and-tested in different systems since 2022 and will now be shown as part of the exhibited line with a new grouping and loading function. The primary packaged cakes are inspected and then continuously placed into the robot's collation chain. Defective packs are discharged instantly. A robot arm picks the individually packaged sliced cakes at 50 cycles per minute. The products are seperated at the gripper into groups of two by four. The robot deposits the grouped products in the integrated bucket chain of the endload cartoner. The speed of the robot and the cartoner's infeed chain are fully synchonized. With the showcased application, manufacturers benefit from the flexibility and scalability of Syntegon's robotics platform. In addition to fast and seamless system integration, all RPP versions also meet IP65 protection class and high hygiene standards. This means that it can even cater to applications with demanding cleaning requirements.
Cartoners and case packers: compact and flexible equipment – easy integration, fast commissioning
As part of the line, Syntegon will also present the latest version of the compact Kliklok BEC endload cartoner. At interpack, the RPP and BEC are integrated into one unit with the machines connected via Ethernet for easy operation. The endload cartoner packs the pre-grouped sliced cakes and sideloads them at a speed of 100 cartons per minute. Show visitors can experience the machine's new technical features: In addition to a new Human Machine Interface (HMI) 4.0 for connection to the digital service portfolio, it also features improved controls. Control technology from Beckhoff in discreet CPU boxes enables cabling without control cabinets – resulting in a compact layout as well as easy system integration. Moreover, Syntegon will showcase the BEC with an optimized drive system: With the switch to servo technology, various drive components can be optimally synchronized so that the processes during loading are completely reproducible. In addition, the BEC uses the proven rotary carton infeed system. More precisely when the cartons are drawn up and the products are placed inside, there is less waste and downtime.
Then, the new Elematic 1001 TL Topload case packer loads the packed products into RSC cases – two rows, three cartons each in six layers. The compact case packer is specially designed for ergonomic operation and can be easily integrated into any packaging line. Its wide format range of up to 600 mm in length, 400 mm in width and 350 mm in height allows it to be used for a variety of products. In addition, the Elematic 1001 TL processes pre-glued RSC and HSC blanks of different corrugated board thicknesses. The dotted application of hot-melt glue used to seal the cartons saves around 10 percent of energy and up to 40 percent of glue without sacrificing stability.
Service Agreements: Support at fixed prices
Synexio also contributes to the optimal monitoring of the equipment: The new cloud-based software solution collects, evaluates and visualizes machine and production data. Syntegon will offer Synexio in three consecutive packages. The basic package "Monitor" visualizes various KPIs and thereby improves production transparency. "Now that our customers are successfully implementing the basic package, we are ready to upgrade to the next level," says Elisa Hein, Product Manager Expert Services at Syntegon. At interpack, Syntegon will present the second Synexio package "Uptime". "With this, we are delving deeper into the details: Besides machine availability, we can now also identify specific potential for improvement, for example by visualizing the most frequent reasons for stops," explains Hein.
Synexio is also part of the Service Agreements that Syntegon offers for the machines of the bakery packaging lines. They provide the foundation for effective equipment and maintenance management at fixed prices. Seven dedicated levels help customers from the pharmaceutical and food industries to reduce production risks, gain predictability on service costs and simplify complex processes – enabling them to focus on their core business. With each level, the scope of services covered increases – from basic service, including inspection and remote service, to guaranteed production performance of the machines. From Level 4, customers can enjoy peace of mind about the total cost of ownership for the lifetime of their equipment. Besides preventive maintenance and operator training, services at this level include all spare parts at a fixed cost.
Learn more about Syntegon technologies and services and meet the experts from May 4 to 10 at interpack 2023 in Duesseldorf. Visit us at booth A31 in hall 6.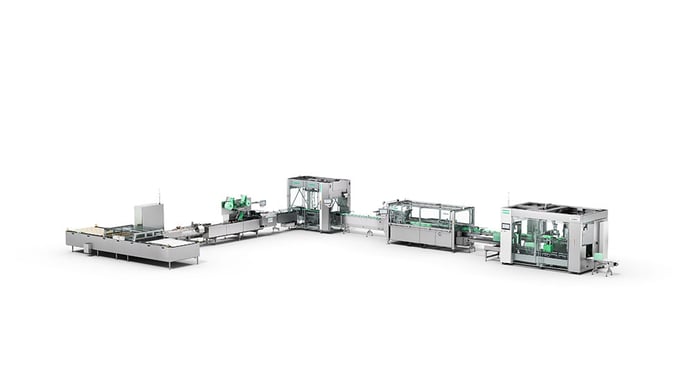 At interpack, Syntegon will present a comprehensive system for handling and packaging layered cakes and other baked goods – from distribution to sustainable primary packaging and case packaging.
About Syntegon
Processing and packaging for a better life – this is what 5,800 Syntegon employees work for every day. Be it with individual machines, systems, or services, Syntegon helps its customers in the global pharmaceutical and food industries to improve people's lives. The company, which is headquartered in Waiblingen, Germany, looks back on more than 160 years of experience and achieved annual sales of 1.4 billion EUR in 2021. In the pharma sector, the company's intelligent solutions enable the safe and high-quality production, processing, filling, inspection, and packaging of liquid and solid pharmaceuticals. In the food industry, Syntegon's flexible and reliable technologies produce and pack confectionery, dry food, frozen food, and dairy products. With 1,100 service experts and a comprehensive service portfolio throughout the entire machine lifecycle from spare parts management to digital line optimization, Syntegon lays the foundation for smooth production processes for all customers. More than 30 sites in almost 20 countries keep a firm eye on Syntegon's impact on the environment and society. Syntegon is a leader in the development of sustainable packaging solutions, reduces the energy consumption of its machines and pursues ambitious goals to lower its emissions. www.syntegon.com