In her role as Collections Specialist, Nathalie Arroyo-Perez is the direct contact to Syntegon customers all over the world. Bilingual and born in Puerto Rico, she talks about the importance of intercultural communication inside and outside the work sphere, building relationships with customers and keeping traditions alive.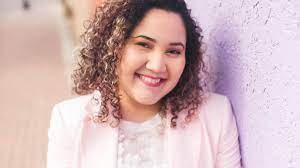 Nathalie started her position as Collections Specialist with Syntegon in January 2019. Since then she has been responsible for handling the invoices for accounts all over the world. As the direct face to the customer, she knows that finance is a sensitive topic that requires to be handled in a respectful but effective manner. "It's all about knowing how to talk to people", she says.
"You got to be charismatic.
It's important to build relationships
with the people you work with."
Nathalie Arroyo-Perez
Nathalie's ability not to just listen but to relate to the customers she is working with, is one of the reasons for her success in her role. Being both empathetic, yet tough enough, allows her to handle situations appropriately: "You got to be charismatic. It's important to build relationships with the people you work with. In my role, you are standing in the "front line" of the company so you need to understand what is appropriate to say or not and address situations a certain way to find a solution."
This seems to be true for both inside and outside the business environment. In a globalizing world as we are facing it today, effective communication beyond borders and cultures is crucial. "Communication is not a one-way street", Nathalie says, "People need to have open minds to prevent miscommunication and, therefore, issues in the future."
Intercultural Relationships
The growing tendency to written or virtual business interactions only, restricts important components of communication beyond words. With limited or no perception of non-verbal aspects such as tone, facial expressions and body language, choosing your words wisely, especially when facing intercultural communication situations, becomes essentially crucial.
Encountering diverse work cultures is on Nathalie's daily agenda. What others might experience as challenging, she enjoys the most: "It's fun to meet so many different people, learn about their personalities and how they communicate – to truly understand your customers makes for the best relationships."
With a Hispanic background, Nathalie especially enjoys talking to the South American customers because she likes their humor: "They will jump from business conversation to personal and right back to business conversation. One customer once randomly told me how he had made food for all of his co-workers. He said: I stayed up all night to make Tamales1 for a birthday at the office, I know everyone is going to enjoy them, they just love my Tamales – also I'll need you to charge my credit card."
What the 25-year old values most about working for Syntegon is how she gets to enhance her skill set on a daily basis. The reason for her passion for diverse cultures might not the least arise from her own cultural background: Born in Puerto Rico, she moved to the US when she was two. Getting to use both her English as well as her native language Spanish on the job is just another plus for Nathalie. "I think it's a beautiful thing to be bilingual."
Keeping Traditions Alive
Nathalie, her husband Josh and their two dogs Lola and Zeus live in North Carolinas capital Raleigh. Currently, she is pursuing her MBA as well as her CPA license2. About half of her family members still live in Puerto Rico but some are down in Florida.
As much as it has its perks to be bilingual and to know two cultures so deeply, it also comes with its difficulties: "I do feel like I am caught between two cultures. Growing up, my parents tried to keep Spanish the main language spoken within the family and to stick to certain traditions. Today, when I am down in Florida with my Hispanic family members, that still feels like home to me. But obviously, so does living in North Carolina, married to my American husband. But I do try to keep Hispanic traditions alive."
For example, Nathalie enjoys cooking traditional Puerto Rican dinners and listens to a lot of music from back home: "Hispanic music is just something that helps me remember my culture." Besides meals and music, Nathalie tries to keep incorporating certain holidays or religious traditions in both hers and Joshes life. The children that the couple definitely wants to have one day will be raised bilingually. – So, does Josh speak Spanish…? "He does not. But he understands what he wants to understand. If I tell him the food is ready, he'll come around …"