Get your ATMP filler delivered in 6 months.
The model FLT in a standard RABS configuration from Syntegon is available in six months or less. The Syntegon FLT vial filler is designed as a platform for clinical trial production and small batch manufacturing of high value pharmaceuticals. Combining Syntegon's know-how and design experience in both vial filler and barrier system technologies, the FLT features industrial grade robustness with an easy setup, simple operation, and short change-over times. The FLT is a full-featured filling system with much of the functionality of full-scale production systems requiring minimal maintenance. The full range of features available on the FLT not only ensures dependable automated production, it also limits product loss and increases adaptability to run a wide range of products.
System options most commonly selected for ATMP processing:
RABS or fully integrated isolator barrier system
fully integrated annex for introducing RTU vials in trays
plastic contact guides for blemish free vials (incl. CZ)
Syntegon peristaltic pump fill system w/ bottom-up filling
dose optimization with integrated product bag scale
100% IPC w/ single scale and zero rejects w/ run resumption functionality
traditional crimp-cap or integrated press-fit cap application flexibility
minimal size parts with tool free adjustments, single bowl for 13 and 20 mm stoppers/caps
integrated particulate monitoring
Syntegon has a proven track record of providing solutions that meet the exacting requirements of the rapidly growing ATMP segment.
FLT 1020 features to benefits mapping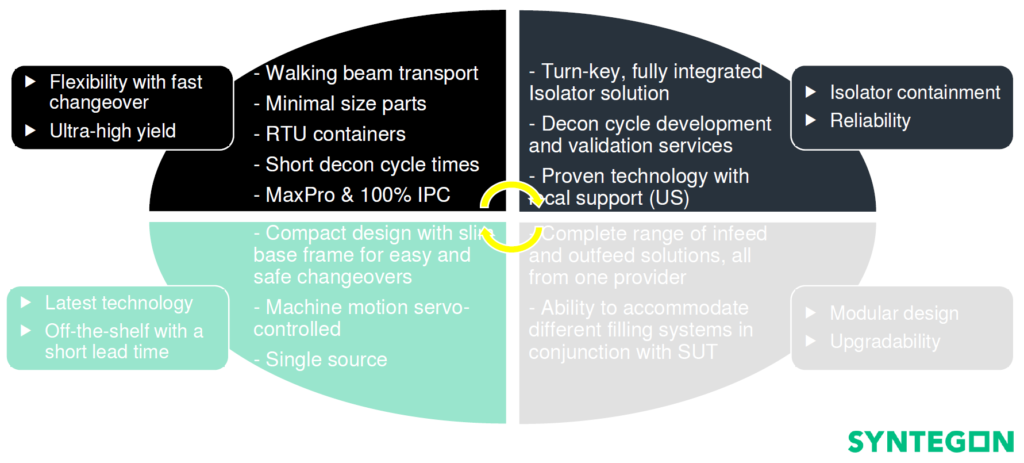 (Click on the image to enlarge)
Interested in learning more? Contact your regional sales representative today! Our subject matter experts are available to engage on your specific application.