Dairy and food brands are taking notice of consumer behavior as the refrigerated and frozen food industry continues to spike in growth throughout 2021. Product innovation and consumer demand fuel the growth of many food segments, but there are some particular key points of interest for pre-packaged foods in preformed containers.
Looking at revenue, the North American and European Market are most dominant.1 Data released from research firm IRI and BCG have also shown a consistent spike for frozen and refrigerated food sales in US grocery stores and super markets. Initially attributed to Covid-19 related stockpiling by consumers, the category of refrigerated and frozen food sales have continued to grow with consumer purchasing behavior.2 Additionally, in European countries such as Germany, convenience food products became more and more relevant during the Corona pandemic, according to the Kölner Marktforschungsinstituts Rheingold.3
A widespread retail disruption is underway as many consumers have largely moved their in-store decision making to online shopping with the assistance of multiple food purchasing mobile applications. These changes are effectively shifting the balance of power for many brick and mortar grocery stores. However, this has not slowed down the increasing demands that dairy and food brands are experiencing from customers.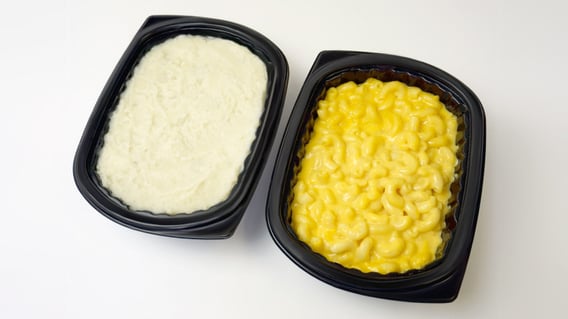 The food category of Readymade Meals are at an all-time high with this steady influx of consumer demand and brands are rushing to keep up. Pre-packaged readymade meals, prepared meal kits, chilled and frozen side dishes and desserts, and microwavable readymade meals lead the way for convenience food with a +32% growth average. Dairy comes in second with a +26% growth average.
Expanding upon category data, based on prior 52 week sales, we can see an increase in sales for these chilled and frozen foods (excluding whole sale stores):
Shredded and Crumbled Cheese (+77.0%)
Dairy Yogurt (+41.7%)
Non-Dairy Yogurt (+21.9%)
Dairy Products (+57.8%)
Pet Food (+54.0%)
Ice Cream (+33.5%)
Frozen Novelties (+31.6%)
Uncooked Meats, Excluding Poultry (+82%)
Manual Cleaning Pastes (+167.8%)
Ready-to-eat Cereal (+79.2%)
Refrigerated pasta side dishes (+23.7%)
Refrigerated potato side dishes (+25%)
What do you have to keep in mind when packaging Convenience Food?
Convenience foods are filled, over-capped, and sealed in hygienic environments. As these markets and product lines expand for many brands, Syntegon has seen its own growth with the customized manufacturing for multiple newly commissioned filling, sealing, and packaging machines. As consumers continue to shelter in place and work from home well into 2021 and beyond, the enthusiasm for cooking from home and having quick readymade convenience foods prepackaged for the entire family or an individual house hold have not decreased. Though the early days of the global pandemic are behind us now, we continue to observe the national and global growth of all prepared, convenience refrigerated, and frozen foods.
Find out more about the machines we have built for our customers to help them take their refrigerated and frozen prepared convenience foods to the level in which their consumers demand.
1 Frozen Food Europe (Oktober 2020)
2 Refrigerated & Frozen Food (30. März 2020)
3 Lebensmittel Praxis (November 2020)
4 NielsenIQ (November 2020)
5 Yahoo News (Dezember 2020)
6 IRI Growth delivered (März 2020)