Syntegon is excited to announce the grand opening of our new OSD Customer Center in Minneapolis, MN. This lab will help to better serve our North American customers right in their own backyard with equipment demonstrations, trainings, and process support activities.
Developing solids processes in the pharmaceutical industry can often be a daunting task, made harder without the appropriate equipment or corresponding process understanding. With this lab we aim to provide solutions to both equipment selection and process understanding in a convenient location.
The lab will provide demonstration and training opportunities with a wide array of pharmaceutical processes. These include granulation, sphere coating, capsule filling, tableting, and drum coating. Additionally, the lab is equipped with state of the art characterization equipment to measure product properties and further demonstrate the superiority of Syntegon powder processing solutions.
As you approach the lab within our Minneapolis facility, you are greeted by large windows into the processing suite and showroom. The showroom is filled with several common pieces of Syntegon equipment. Within the showroom we also have a monitor and meeting space for in-person trainings, just feet from the actual equipment.
Continuing into the process suite, through a negative pressure gowning room, you enter the main lab space with the chosen Syntegon equipment and the necessary characterization equipment. The large room and excess utility capabilities allow for maximum flexibility and adequate room to observe the process. In the photos below we have our Solid Lab 2 Fluid Bed module set-up near the window. A storage room in the back allows for a dedicated space for any powder samples, ancillary equipment, and tools for the lab. Additionally there is a utility space accessible from the main shop floor. Visibility into this utility space is important because understanding the mechanism of a piece of equipment rarely ends at the product contact surfaces.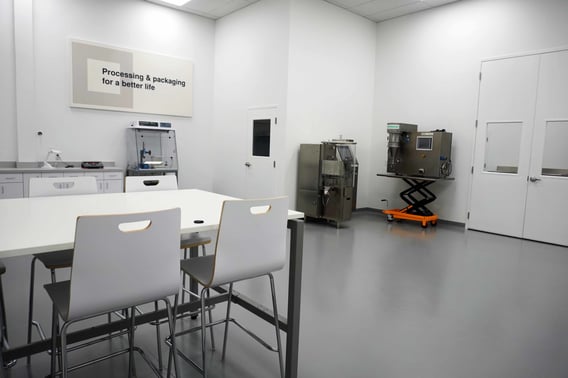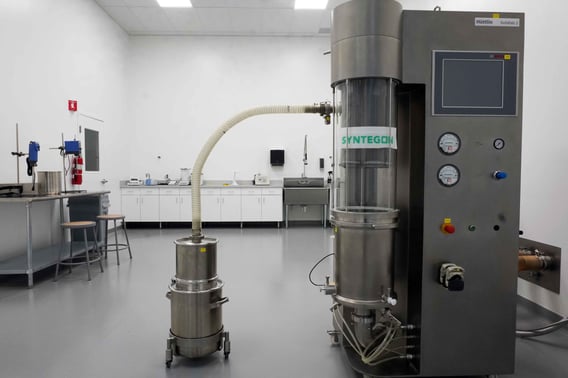 We look forward to showcasing our innovative processing solutions at our new OSD Customer Center and helping you solve your most difficult processing challenges.