The company OLMA a.s. has now been operating in the Czech market for fifty years with great success and is one of the top three dairy companies in the country.
The Czech company processes around 200 million kilograms of raw milk per year. Its portfolio comprises of 150 products, including fermented products, cream and sour cream, desserts and various yogurt products. Olma reacts to trends very quickly. New products that meet the current demands of consumers are continuously added – either as their own or private label brands.
Over the years, a number of Ampack machines from Syntegon have been installed at Olma. Five Ampack filling lines, and other processing equipment, have proven themselves to be exceptionally efficient and dependable for as many as 30+ years. "On the basis of our long-standing collaboration, we were certain that the Ampack team would be able to master the task with ease," the managing director summarizes.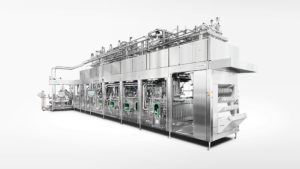 With the Ampack FCL 1080 U filling machine from Syntegon Technology, the Czech dairy company counts on the newest addition to the Ampack product range. The machine at Olma is set up for an output of 18,000 cups per hour, with a cup diameter of 68 millimetres. The machine is configured for a processing program of four products: mixed fruit yogurt in four varieties, cream with a fat content of 33 percent, vanilla/chocolate pudding with a whipped cream topping and vanilla yogurt with up to four different top cups, containing chocolate balls, cereal or cookies.
Factor 1: Variability
In addition to product variety, one thing counts for Olma above all: flexibility. "The machine should be able to cover about 90 percent of all conceivable dairy products; that's part of our strategy," Martin Krystián says. As a result, the three dosing units are integrated into the line in the form of volumetric piston dosing units – adapted to the different product properties. With such a large product range, the upstream tasks cannot be underestimated: The separate Ampack fruit station is designed for up to five different products, such as fruit concentrate, stracciatella or chocolate balls. Based on feedback from Olma's operators in the Czech Republic, Syntegon Technology implemented a number of upgrades. The heavy tubes and arch-shaped coupling device no longer have to be moved or re-connected for cleaning. This is now standard on all our fruit stations, enabling easy and fast cleaning processes.
Factor 2: Hygiene
The Ampack machines' high standard of hygiene was the decisive factor for this order placement. The broad range of products, with varying microbiological sensitivities, calls for reliable and safe filling processes. The ultra-clean version of the machine, which has been in operation at Olma since late 2018, complies with Category V of the VDMA aseptic standard for nearly all test values.
Factor 3: Productivity
For all products, the Ampack FCL 1080 U achieved the required output rate, even surpassing it in some cases. For some products, the output rate was almost a third higher than Olma's requirements. The machine is highly efficient and ensures an availability of more than 95 percent. Investment Manager Stanislav Černocký is delighted by the machine's filling accuracy. "With the achieved standard deviation, we remain well below the value specified by law. This is of course a question of profitability."
With their new equipment, Olma is well prepared for the continuous expansion of its product portfolio. "We could always count on professional support from Ampack throughout the installation of the machine and the production launch," the investment manager concludes.