The Canadian brand name Leclerc stands for delicious cookies, crunchy crackers, and healthy bars. Leclerc is also a successful contract manufacturer of branded products at its eight manufacturing facilities in Canada and the United States.
In 2019, Leclerc decided to expand its production capacity in Cornwall, Ontario, relying on the expertise of its long-time partner Syntegon.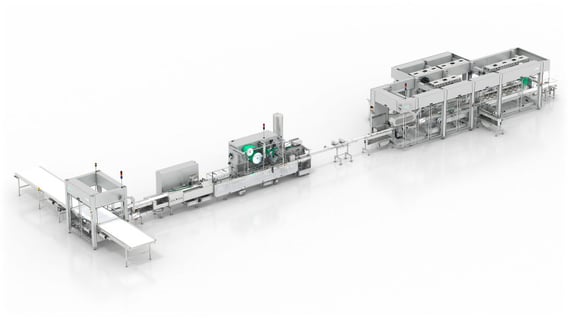 As part of its expansion and modernization plans, Leclerc acquired a total of two new state-of-the-art bar systems from Syntegon Technology for its sites in Canada and the U.S.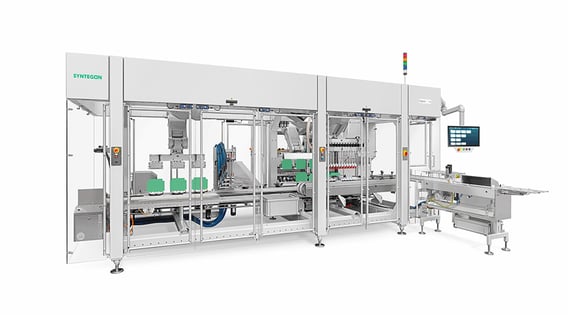 The Sigpack TTM2 top load cartoners with patented format changeover from Syntegon are part of the systems for Leclerc.
"We like to work with partners who fully understand
and support our corporate values and share our commitment to quality.
We are happy to have found such a partner in Syntegon."
Jean-Sébastien Leclerc
Vice-president, co-manufacturing and manufacturing infrastructure at Leclerc
Premium technology for premium products
At its new production site, Leclerc produces snack and breakfast bars with fruit and cereal fillings in various flavors and sizes. Both the ingredients and the product are versatile, but also very sensitive. Production conditions must meet strict food safety standards and ensure optimal product protection. The bars are first flow wrapped individually and then packed in cardboard boxes in varying numbers for retail. Leclerc must be able to pack different bars and batch sizes on one line with minimum downtime – what the company does with bar packaging systems from Syntegon:
The automated and fully integrated system for primary and secondary packaging consists of a Sigpack DGDE product distribution station for two packaging legs with particularly gentle handling and a multi-level DBM-3 buffer station. It is followed by two Sigpack FIT product infeed modules based on linear motor technology, which provide a constant product flow to the two Sigpack HRM flow wrappers. The primary packed bars are then brought into the correct position by the new Sigpack PFI module, also based on linear motor technology, and fed to the two integrated Sigpack TTM2 top load cartoners. Thanks to the patented Syntegon changeover concept, format changes take place without tools and within a very short time.
State-of-the-art production ensures customer satisfaction
The cooperation with Syntegon delivered excellent results, so Leclerc equipped additional sites with systems from Syntegon. The systems in St. Augustin and Montgomery also include Sigpack distribution stations, Sigpack HRM flow wrappers with intelligent Sigpack FIT infeed and Sigpack TTM2 top load cartoners. In addition, Leclerc invested in four Elematic 3001 WA wrap-around case packers that can handle both corrugated and solid board. The patented Elematic Click® system makes sure format changes can be performed quickly and easily. Thanks to its investment in Syntegon's state-of-the-art technology, Leclerc is well equipped to keep up its reputation as an excellent bar manufacturer.