The most powerful plant in the Swiss grid area of the Schaffhausen-based energy supplier EKS
New system covers around a quarter of the site's electricity consumption
Important step for Syntegon on the path to a self-sufficient local power supply
Beringen (Switzerland), March 2, 2023. A photovoltaic system furnished by the power company of the canton of Schaffhausen (EKS) is now producing electricity on the roofs of the Syntegon site in Beringen. Representatives of Syntegon, Schaffhausen canton, and the town of Beringen inaugurated the system at an opening ceremony held on March 2, 2023. With around 1,128 kilowatts-peak (kWp) output, it is the most powerful plant in EKS' Swiss grid area. It covers a quarter of the site's electricity demand. Syntegon intends to use up to 80 percent of the electricity on site as it is generated.
"With this photovoltaic system, we are taking the next step towards an energy-efficient power supply aligned with our sustainability goals," says Bruno Oberle, site manager at Syntegon in Beringen. The site, which dates back to the 1960s, is currently being refurbished in stages to improve its energy efficiency. The goal is for locally produced renewable energy to provide all the power needed on site by 2033. Syntegon is pursuing its emission goals with great persistence. The company, which specializes in processing and packaging technology, already sources 100 percent green electricity for all its European sites and has aligned its climate action efforts with the Paris Agreement's 1.5 degree target.
EKS's photovoltaic plant is going to provide a quarter of the green electricity consumed at the Beringen site. Syntegon and the Schaffhausen power station's collaboration is thus a win-win for both sides. "With this comprehensive plant, EKS is making another important contribution to the energy transition in the canton of Schaffhausen," says EKS CEO Thomas Fischer. "Syntegon incurs no investment costs, while the site pays an affordable and stable electricity rate," adds Bruno Oberle.
This has also garnered praise from politicians. Schaffhausen cantonal councilor Martin Kessler made this clear at the official opening ceremony: "EKS' new photovoltaic plant at Syntegon creates great value for Schaffhausen as a hub of industry and serves as the perfect blueprint for further projects of this nature." The town of Beringen also takes a positive view of this sustainable power plant: "We are delighted that Beringen and the local environment provide the ideal conditions for a showcase project like this," says Roger Paillard, president of Beringen municipality.
Towards self-sufficiency with on-site power and heat generation
Water figures prominently alongside solar power in Syntegon's sustainability strategy at Beringen. The site sits on top of an enormous groundwater deposit at a depth of around 80 meters. With a water level as high as 50 meters, it offers great potential in terms of energy. Syntegon is already using the available groundwater and heat pumps to heat and cool various buildings ranging from offices to factories.
By generating electricity and heat locally, the site is pursuing an ambitious goal to reduce its emissions. The aim for 2027 is to cut annual carbon emissions by 40 percent from 2019's figure. "The year 2027 is another milestone of our refurbishment effort," says Volker Koch, responsible for energy management at Syntegon's Beringen site. "By then, we want to have equipped half of all our roof surfaces with photovoltaic systems. We also aim to completely phase out oil-fired heating, replacing it with groundwater heat pumps within the next ten years."
Syntegon's longer-term aspiration is to continue expanding the on-site energy supply to the point of self-sufficiency. As the company envisions it, the Beringen facility will generate all the electricity it consumes from 2033 forward. It still lacks the storage facilities to achieve this independence. However, Volker Koch and his team see potential for turning this vision into reality. "We are tracking developments on the market very closely regarding the technical possibilities for buffering energy," says Koch. "If implemented successfully, the site would not only be self-sufficient by 2033; it could also reduce its emissions to zero."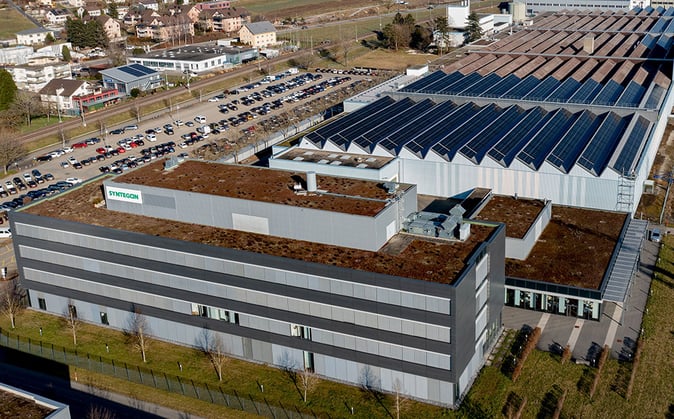 The most powerful photovoltaic plant in EKS's Swiss area is now producing electricity on the roofs of Syntegon at Beringen. It is to be expanded in the years ahead.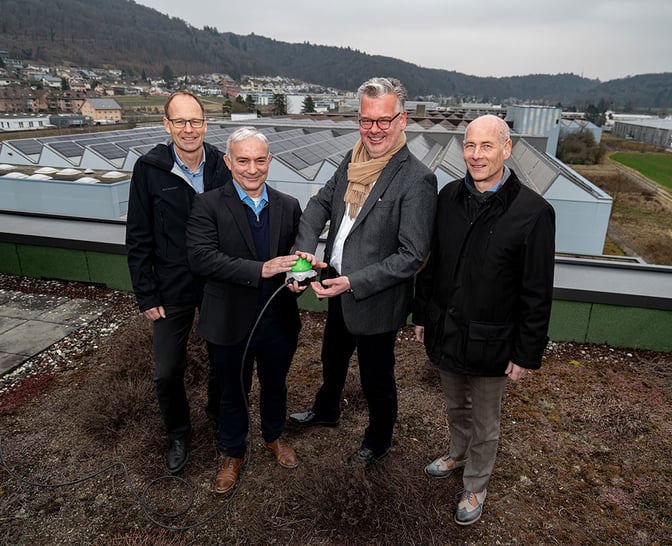 Syntegon site manager Bruno Oberle (2nd from left), and EKS CEO Thomas Fischer (2nd from right) put the new photovoltaic system into operation with Schaffhausen cantonal councilor Martin Kessler (right) and Beringen municipality president Roger Paillard (left) in attendance.
About Syntegon
Processing and packaging for a better life – 5,800 Syntegon employees work towards this end every day. Syntegon helps customers in the food and pharmaceutical industries worldwide to improve people's lives with its stand-alone machines, complete systems, and services. Headquartered in Waiblingen near Stuttgart, Germany, Syntegon has more than 160 years' experience and generated annual revenue of 1.4 billion euros in 2021. In the pharmaceutical industry, Syntegon's intelligent solutions enable liquid and solid pharmaceuticals to be manufactured, processed, filled, inspected, and packaged safely and in high quality. In the food industry, Syntegon's flexible and reliable technologies produce and package confectionery, dry food, frozen food, and dairy products. Syntegon's 1,100 service experts and comprehensive service portfolio covering the entire machine life cycle from spare parts management to digital line optimization provide the underpinning for customers' smooth production processes. With more than 30 sites in nearly 20 countries, the company keeps a close eye on its impact on the environment and society. Syntegon, the leader in developing sustainable packaging solutions, is reducing machines' energy consumption and pursuing ambitious targets to curb its emissions. www.syntegon.com
Download press release