The environmental impact of packaging has gained a lot of importance over the last years. Manufacturer are seeking new approaches to use environmentally friendly material such as paper while at the same time improving to combine efficient processes with optimum product protection for sensitive products like dairy. Ilona Junker, Project Manager Sustainable Solutions at Syntegon, explains how sustainability and product safety can be combined for liquid and viscous food products.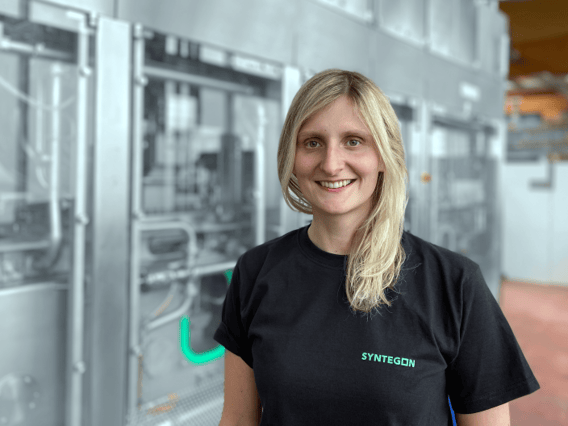 As part of Syntegon's sustainability team, Ilona Junker develops new technical solutions for filling machines, making it possible to use sustainable packaging materials for liquid and viscous food products.
Ms. Junker, in the context of packaging solutions, sustainability is on everyone's mind. What trends can you identify in terms of packaging for liquid and viscous products? How will packaging change in the future?
Junker: In addition to our responsibility towards the environment and legal requirements, changing consumer expectations are an important driver of change in the packaging industry.
In the future, manufacturers will therefore reconsider conventional packaging concepts with regard to plastic and recyclability and will increasingly rely on renewable raw materials. Cups made of composite materials will gradually disappear from the refrigerated section and will be replaced by new solutions, like plastic-paper mixtures and mono- materials. Besides reducing the plastic content and improving recyclability, the environmental impact of packaging also extends to lower carbon emissions thanks to less packaging weight and less product waste. There is no universal solution to material reduction and recyclability, however, Syntegon is working to improve existing packaging solutions and create full paper solutions for dairy and other liquid and viscous food products.
Filling and packaging machines for liquid and viscous products are very complex – just like the specialized customer requests. What contribution can Syntegon make to sustainability in such an environment?
Junker: Our sustainability experts have extensive knowledge in many different areas and work closely together to promote the use of environmentally friendly technologies. At our Liquid Food Lab in Königsbrunn, as well as on our pilot machines, we test materials for machine runability and hygiene properties. An important factor is our collaboration with packaging manufacturers and customers: Syntegon evaluates which adjustments are necessary for the transition to sustainable solutions. These findings help to adapt existing machines to new requirements. We support our customers from their initial idea up to the implementation. Product safety and sustainability do not have to be mutually exclusive. To ensure maximum product protection, we include our material specialists and experts in the field of packaging development in the process of identifying suitable technologies.
What challenges arise by using sustainable materials in processing and packaging dairy products and other liquid and viscous foods? How does Syntegon meet these challenges?
Junker: A major challenge in the transition to sustainable materials is to keep the equipment efficiency high and to minimize the rejection of faulty packaging. Paper solutions damage more easily compared to plastic, which renders the pack useless. Product handling in the machine and during transport is therefore much more challenging.
At our Liquid Food Lab in Königsbrunn we conduct research, tests and develop new approaches with the goal to assess the various processing parameters of possible packaging materials like paper or PP mono-material. The Liquid Food Lab and its testing facilities are fully equipped to perform and evaluate germ reduction and product filling tests in small quantities to ensure product safety. This supports customers in their transition to sustainable materials since it allows them to predict necessary machine adjustments and effects on the product. We develop individual solutions to retrofit existing systems, which allows for quick changes between different materials on the same filling line.
However, there is still a huge potential for development. Finding sustainable packaging solutions for our customers is a complex process that is influenced by many parameters. At Syntegon, we are continuously working on innovative technologies that meet the high product requirements while minimizing the impact on our planet.