A variety of questions can arise in the context of new packaging designs. Is the packaging optimally suited to the product? Do the packaging's barrier properties and the machine's degree of sterilization offer sufficient product protection and shelf life? "Sustainably developing new products requires close partnerships between food manufacturers, material suppliers, and machinery manufacturers like us," says Korbinian Tomschi, Head of Process Technology at Syntegon in Königsbrunn. Tomschi is also Head of Syntegon's Liquid Food Lab, which offers a testing center to help answer these questions.
Dairies and food manufacturers that want to conduct filling trials don't normally have the requisite resources to aseptically fill new products on an experimental scale. Small testing facilities are the answer, especially when machinery manufacturers like Syntegon, with the required expertise and testing centers like the Liquid Food Lab, operate them. Here, sterilization, dosing accuracy, and sealing can be tested on a small scale.
Testing under realistic conditions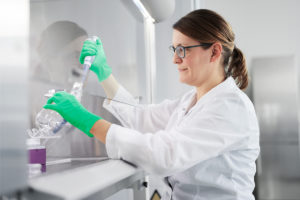 When it comes to sterilization, testing is essential, particularly for manufacturers and packagers of sensitive products like baby food. The sterilization of new cups or packaging materials can be effectively assessed at the Liquid Food Lab from Syntegon. After all, new containers can only be used in production when and if they meet the hygienic requirements. The necessary settings are determined at the pilot facility and subsequently transferred to the customer's own production systems. This yields the optimal decontamination process for the respective product.
In turn, perfect sealing is indispensable for ensuring product hygiene and optimal shelf life. Sealing tests are used to gauge and optimize the sealing performance of new packaging products. New and unconventional sealing solutions are required especially in combination with highly recyclable monomaterials. In this context, representative tests conducted under real conditions will lead to the right decisions in the packaging process.
In addition to the microbiological and chemical issues, the Liquid Food Lab in Königsbrunn also deals with the implementation of customer-specific, technical tests on pilot machines. For example, different dosing nozzles and settings can be tested for the optimum dosing of complex filling schemes (e.g. multilayered desserts). Consequently, food manufacturers who plan to purchase or refit filling systems are well advised to experiment with the best settings for dosing their product on a small scale.
Aseptic filling on a small scale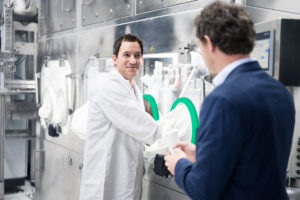 For this type of test, the Liquid Food Lab offers not only a laboratory, but also test stands and a small, aseptic filling machine that can also be rented. It allows manufacturers to fill small test batches to determine how merchants and consumers respond to their product and its packaging while still in the development phase.
The future of packaging viscous products will depend on basic research, and on concrete development work. "Our goal is to promote a more sustainable and flexible processing and packaging industry. To do so, we need not only our own experts, but also the support of our partners and customers. By collaborating with them, we can develop and implement innovative packaging solutions and more efficient processes. Together, we can assess the entire process, from start to finish," summarizes Korbinian Tomschi.